Hello, My Lovelies! This is my end of the year wrap-up post.
2020.
Good riddance.
I can't remember a time in my life when I was actually looking forward to a year's end, but here I am.
Have some coffee! This post might take a while...
When I look back on the year, it was NOT a total and complete loss. Our children are thriving: Shanley Belle graduated with her PhD, she married Sweet Christopher in February in our church with our friends and family present, and she has been hired for an exciting post doc at a major university; Shelley continues working and studying: she only has three classes left in undergrad! Mr. Sketchy Reader's business has never been better.
However, the things that are the most important to me have been considered non-essential by our government: organizations, museums, libraries, and church. I'm unaccustomed to living in a country where the government determines winners and losers (i.e. if you're a big box store, you're a winner). I never thought I would live to see churches closed in the United States of America.
I have friends who've lost businesses, jobs, and loved ones. My heart hurts for them.
I guess I was not expecting a color revolution here in the US. I've spent a lot of time this year researching this, and we are in the throes of one.
I've been praying a lot for our country this year.
I'm being kinder to myself, and I'm no longer focusing on current events. I'm off all social media now, and I am already feeling healthier. I deleted my Instagram account because I could not abide by their Terms of Use. The new rules went into affect on December 20th, and the craziest one is:
You cannot use a domain name or URL in your user name without prior written consent.
Another good thing that has happened is that I found a new art medium I am loving while I couldn't paint with oils:
silverpoint
.
I also tried a new oil paint made with walnut oil binder that doesn't seem to affect my allergies, so I've started painting again. Making art is something I can do that's healthy for me, and now I have a lot of free time since I'm no longer on Instagram and Twitter.
I only have one wash on the teacups painting.
Each year, I participate in Goodreads' Reading Challenge. This year I pledged to read 36 books, and I met my goal with a trio to spare. Other than scripture, Jan Karon's The Mitford Series has also been very good for me. The books are so uplifting, and they have been a treasure, especially this year. I've read nine, and I have five more left to go. I will start on book ten this weekend.
Other than the Mitford Series, the best book I read this year: The Beekeeper of Aleppo. It is a life-changing book, and I highly recommend it. I read it over New Year's last year, so I can barely claim it to be my favorite of 2020; as a matter of fact, I think I named it as a favorite of 2019, BUT I read it during both years. It's that good. You should read it.
You can read my review HERE.
I've been reading Sarah Young's
Jesus Calling
since my birthday in May, and I have enjoyed it so much that I started a
daily blog about the devotional,
posting the day's scripture and discussing the messages. Please feel free to join us: now is a good time, with the new year upon us. Prayer and scripture has sustained me this year, and my blog friends over there have been the best. We lift each other up in prayer, and it has been a sweet, small, and mighty little group!
My word for the year:
My faith has definitely been tested this year. But it is SO MUCH STRONGER.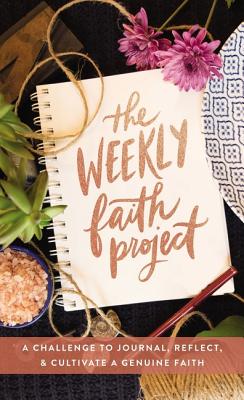 I completed The Weekly Faith Project this year. I really enjoyed it!
The book cover above is an IndieBound affiliate link.
My word for 2021? You'll have to wait until tomorrow!
My Advent focus this year was From Light to Dark: Jesus is the Light of the World.
As the year ends, I'm comforted that God is faithful: "You keep him in perfect peace whose mind is stayed on you, because he trusts in you." Isaiah 26:3
That's my wish for us all as we welcome 2021: peace.
Thank-you for reading my blog! My readers and blog friends mean the world to me.
Until next time...
Happy New Year!
Ricki Jill