I read about this book in the Christmas issue of Daphne's Diary Magazine.
Welcome to a fun What I'm Reading Wednesday post, My Lovelies!
Today's feature is a very sweet book written by the Queen of Christmas books Donna VanLiere entitled The Christmas Table. Plus, I'm sharing a recipe from the book that would be a fun addition to New Year's Eve celebrations or football parties.
According to Goodreads:
From Donna VanLiere, the New York Times bestselling author of The Christmas Hope Series comes another heartwarming, inspirational story for the holidays, The Christmas Table.
In June 1972, John Creighton determines to build his wife Joan a kitchen table. His largest project to date had been picture frames but he promises to have the table ready for Thanksgiving dinner. Inspired to put something delicious on the table, Joan turns to her mother's recipes she had given to Joan when she and John married.
In June 2012, Lauren Mabrey discovers she's pregnant. Gloria, Miriam, and the rest of her friends at Glory's Place begin to pitch in, helping Lauren prepare their home for the baby. On a visit to the local furniture builder, Lauren finds a table that he bought at a garage sale but has recently refinished. Once home, a drawer is discovered under the table which contains a stack of recipe cards. Growing up in one foster home after another, Lauren never learned to cook and is fascinated as she reads through the cards. Personal notes have been written on each one from the mother to her daughter and time and again Lauren wonders where they lived, when they lived, and in a strange way, she feels connected to this mother and her daughter and wants to make the mother proud.
The story continues to from 1972 to 2012 as Joan battles breast cancer and Lauren learns to cook, preparing for the baby's arrival. As Christmas nears, can Lauren unlock the mystery of the table, and find the peace she's always longed for?
My Review:
This is the sweetest story set during Christmas that I've read in several years. It has a dual storyline that weaves together perfectly at the very end. The first storyline is from 2012, and it's about a young expectant mother named Lauren. She is learning to cook from recipe cards she found in the drawer of a refinished vintage kitchen table. She and her husband are enjoying the recipes, and her new skills as a cook are giving her the confidence she desperately needs: Lauren is scared about motherhood because she's a foster care kid, and no one really modeled good mothering for her. The second storyline concerns Joan and her battle with breast cancer in the 1970s. She has two young children, and her sweet husband is building the table (the one that Lauren eventually purchases in 2012) for her during this time. Joan is a wonderful cook, and her mother painstakingly made recipe cards for her when she first married.
Even though Lauren loves all the recipes she's tried, she can't help but feel badly for the owner of the recipe cards because they were lovingly made for a daughter, and they contain family history. She decides to find the original owner of the cards using only a single clue from one of the cards. Lauren perseveres after many dead-ends and continues her search even as she's working and fluffing the nest for her first baby.
The story takes place in a town called Grandon, and Lauren works at Glory's Place, an after school childcare facility where children can also receive tutoring. Glory's Place and Grandon have been featured in many of VanLiere's books, so it's always fun to "visit" favorite characters. It's the tenth book in the
Christmas Hope Series
, yet they can all be read as "stand alone" books. You can read them in any order if you wish. You can read my review of
The Christmas Secret
HERE,
The Christmas Promise
HERE
, and
The Christmas Town
HERE
. Many of her books have been adapted for Hallmark, including last year's
Christmas Town
starring Candace Cameron Bure.
There are several recipes discussed throughout the novel, and what makes it fun are the neat tips, tricks, and anecdotes written on the recipe cards. VanLiere includes many of the recipes at the back of the book, and they all sound delicious. I tried the chocolate chip cheese ball, and it was a hit!
Recipe for Chocolate Chip Cheeseball
Ingredients:
1 1/4 cups roasted, chopped pecans
3 8-ounce packages cream cheese, softened
1 1/2 cups mini chocolate chips
1 cup sifted powder sugar
1 T ground cinnamon
Cook's Note: I bought a bag of Priester's roasted and salted pecans and chopped them up. You can roast pecans yourself if you prefer.
Procedure:
Mix all the ingredients together except the pecans and form into a ball. Press the pecans around the entire ball. Chill for at least two hours before serving.
May be served with ginger snaps or any flavor graham crackers.
I served the chocolate chip cheese ball with ginger snaps.
I am currently reading VanLiere's The Christmas Star, and that will be the last one of the season. I'll probably start back where I left off with the Mitford Series in January.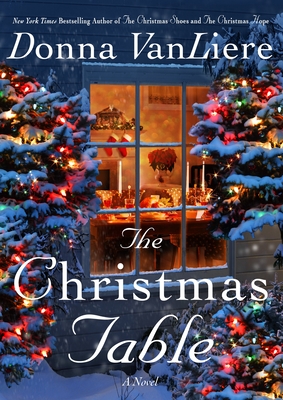 This is an IndieBound affiliate link for purchasing the book.
Buy Indie and buy local!
Until next time...
Happy reading!
Ricki Jill