Happy Literary Friday, My Lovelies! Today I'm reviewing Life in the Studio: Inspirations and Lessons on Creativity by Frances Palmer. Frances is a talented ceramic artist, but she's also a Renaissance woman. She truly lives a creative life, and I think all women, especially bloggers, should be inspired by her.
Please visit Frances Palmer's website to see more of her art HERE.
According to Goodreads:
"Roll-up-your-sleeves advice on throwing pottery, growing dahlias, cooking her tried-and-true recipes, and everything in between."
—Martha Stewart Living
"Suited to any type of creative, offering up lessons on inspiration and creativity that are sure to bring out your inner talent."
—House Beautiful, Best New Design Books
What makes a creative life? For an artist like Frances Palmer, it's knitting all of one's passions—all of one's creativity—into the whole of life. And what an inspiration it is.
A renowned potter, an entrepreneur, a gardener, a photographer, a cook, a beekeeper, Palmer has over the course of three decades caught the attention not only of the countless people who collect and use her ceramics but also of designers and design lovers, writers, and fellow artists who marvel at her example. Now, in her first book, she finally tells her story, in her own words and images, distilling from her experiences lessons that will inspire a new generation of makers and entrepreneurs.
Life in the Studio is as beautiful and unexpected as Palmer's pottery, as breathtakingly colorful as her celebrated dahlias, as intimate as the dinners she hosts in her studio for friends and family. There are insights into making pots—the importance of centering, the discovery that clay has a memory. Strategies for how to turn a passion into a business—the value to be found in collaboration, what it means to persevere, how to develop and stick to a routine that will sustain both enthusiasm and productivity. There are also step-by-step instructions (for throwing her beloved Sabine pot, growing dahlias, building an opulent flower arrangement). Even some of her most tried-and-true recipes.
The result is a portrait of a unique artist and a singularly generous manual on how to live a creative life.
My review:
The Goodreads blurb does a great job explaining the gist of the book: Clearly it's the perfect gift for the creative in your life, and your home library needs a copy. I always enjoy reading about other artists' processes, and Frances describes her daily schedule and how she adjusts it occasionally (almost a third of the book is dedicated to her routine). Most successful creatives stick to a routine that works for them, and Frances goes into detail about how she balances her family life with her business. It's also fun seeing creativity in other aspects of artists' lives outside of their chosen medium. Frances shares many of her other creative pursuits in this book.
Frances reminds us that inspiration is everywhere, and I find her studio (set in a garden) extremely inspiring. It reminds me of my friend Dorothy's studio at the
Tallapoosa School of Art
. I think it would be fun to have a separate studio, but for now, I'm grateful for my little space in our home.
Here are a few reasons I think you might love this book.
Interesting topics:
Comprehensive guide to throwing pots
How to grow dahlias
Beekeeping tips
Of particular interest to bloggers:
Flower arranging tips
Photographing still life vignettes
Delicious recipes include:
Goat cheese and leek tart
Fresh, homemade pasta
Tarte tatin
Roasted tomato sauce
Honey peach preserves
Date-nut bread
Almond cake
Perfect roast chicken
Just having one thing in common with this amazing lady has made my day!
Frances's recipe includes a few veggies, and I will try it in the fall.
Her pottery is simply stunning. I would love to be able to purchase one of her beautiful vases one day. She is very gifted with gazing, and she understands color. I was fascinated with her creative process for designing her ceramic art.
In spite of all the helpful (and interesting!) information in this book, the photography makes it: It's truly eye candy.
Currently, Frances Palmer's photography is on display at Wave Hill through mid-August. I would love to see her beautiful photography in person!
"Martagon Lilies, Celadon and Ash Glazes", 2020
Doesn't this one look like a dutch master?
"Autumn Cornucopia", 2016
Her stunning photography and prints can be purchased through
her website
.
I bet you know someone who would love and appreciate this beautiful book. I highly recommend it!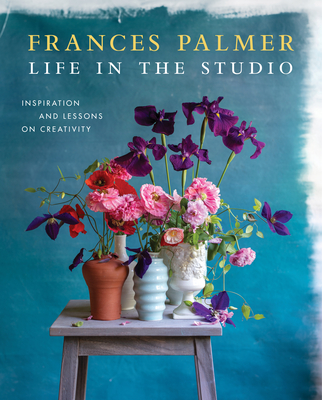 IndieBound affiliate link
What are y'all reading this weekend?
Until next time...
Happy reading!
Ricki Jill