Happy Literary (black) Friday, My Lovelies!
Today I'm reviewing
The Cold Millions
by Jess Walter. Disclosure: I won it a couple of months ago via a Goodreads giveaway, and I wanted to save it for this weekend to review because I just knew that it was going to be "the book" of the year. I loved Walter's
Beautiful Ruins,
and you can read my review of it
HERE
.
According to Goodreads:
The author of the #1 New York Times bestseller Beautiful Ruins delivers another "literary miracle" (NPR)—a propulsive, richly entertaining novel about two adventure-seeking brothers, the enemies who threaten them, and the women who reveal to them an unjust world on the brink of upheaval.
The Dolan brothers live by their wits, jumping freight trains and lining up for day work at crooked job agencies. While sixteen-year-old Rye yearns for a steady job and a home, his dashing older brother Gig dreams of a better world, fighting alongside other union men for fair pay and decent treatment. Enter Ursula the Great, a vaudeville singer who performs with a live cougar, and who introduces the brothers to a far more dangerous creature: a powerful mining magnate who will stop at nothing to keep his wealth and his hold on Ursula.
Dubious of his brother's idealism, Rye finds himself drawn to a fearless nineteen-year-old activist and feminist named Elizabeth Gurley Flynn, her passion sweeping him into the workers' cause. But a storm is coming, threatening to overwhelm them all, and Rye will be forced to decide where he stands. Is it enough to win the occasional battle, even if you cannot win the war?
An intimate story of brotherhood, love, sacrifice and betrayal set against the panoramic backdrop of an early twentieth-century century America that eerily echoes our own time, The Cold Millions offers a stunning, kaleidoscopic portrait of a nation grappling with the chasm between rich and poor, between harsh realities and simple dreams. Featuring an unforgettable cast of cops and tramps, suffragists and socialists, madams and murderers, it is a powerful and moving tour de force from a "writer who has planted himself firmly in the first rank of American authors" (Boston Globe).
My Review:
This novel is a fitting read for 2020 due to the story's setting (partially) during the Spanish flu outbreak of 1919. Also, anarchists abound in early 19th Century Washington State, just like today. The communist agitators (Elizabeth Gurley Flynn is a real communist from American history) are trying to gain traction in the book as well as now. Truly the comparison to then and now is uncannily eerie, just like the Goodreads blurb observes. Yet the social unrest then was perpetrated by those who were actually being oppressed.
So why read the book? Most people I know who want to read fiction read it as a means of escape, to live vicariously through interesting and compelling characters. There isn't a whole lot of escape in this one as history is repeating itself: Some readers might not want to be reminded of our current reality. However, Jess Walter is an exceptional writer: His prose is pretty... I would probably enjoy reading his grocery list. I am a lover of character-driven books, and many of his characters are larger than life, both fictitious, like vaudevillian Ursula the Great, and real-life John Sullivan, Spokane's police chief. As interesting as the characters are, my main complaint about the novel is that the plot is sidetracked several times as new characters are introduced and their backstories explored. However, the relationship between brothers Rye and Gig Dolan and their respective spheres of influence are literary gold, and this is my second reason for recommending the novel.
If you are looking for a Christmas present for the fiction lover in your life, I recommend The Cold Millions. Walter is a Spokanite, and he did a remarkable job researching his hometown's history for this novel. Spokane's history is fascinating, and I read several articles about the area when I finished the book. I was especially taken with the horse slaughter camp when a vindictive Col. Wright punished three Indian tribes by capturing and then slaughtering 800 horses near Spokane (being horse people this nugget from history disturbed me).
Question of the day: Will you be purchasing any books for Christmas presents this year? If so, what are you buying?
Below is an IndieBound affiliate link for purchasing the book.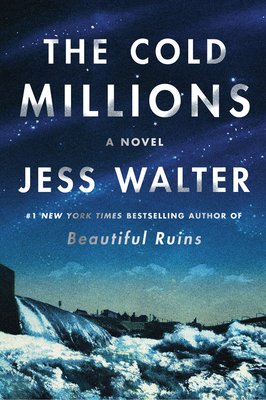 Until next time...
Happy reading!
Ricki Jill