Happy Tuesday, My Lovelies!
I hope you are enjoying a beautiful spring wherever you are. I've been MIA partly due to gorgeous weather and outdoor activities. We have to enjoy it while we can in Central Alabama before the high summertime temperatures take over!
Today I'm sharing a new novel that's hit the shelves at just the right time, right before Mother's Day:
The Overdue Life of Amy Byler
by Kelly Harms.
According to Goodreads:
"A laugh-out-loud funny, pitch-perfect novel that will have readers rooting for this unlikely, relatable, and totally lovable heroine, The Overdue Life of Amy Byler is the ultimate escape—and will leave moms everywhere questioning whether it isn't time for a #momspringa of their own." —New York Journal of Books
Overworked and underappreciated, single mom Amy Byler needs a break. So when the guilt-ridden husband who abandoned her shows up and offers to take care of their kids for the summer, she accepts his offer and escapes rural Pennsylvania for New York City.
Usually grounded and mild mannered, Amy finally lets her hair down in the city that never sleeps. She discovers a life filled with culture, sophistication, and—with a little encouragement from her friends—a few blind dates. When one man in particular makes quick work of Amy's heart, she risks losing herself completely in the unexpected escape, and as the summer comes to an end, Amy realizes too late that she must make an impossible decision: stay in this exciting new chapter of her life, or return to the life she left behind.
But before she can choose, a crisis forces the two worlds together, and Amy must stare down a future where she could lose both sides of herself, and every dream she's ever nurtured, in the beat of a heart.
My Review:
First of all, I need to explain the term "momspringa." Momspringa comes from the Amish word "rumspringa," which is a period when some Amish youth, boys more than girls, experience greater freedom. Without their parents' authority and not yet under the authority of the church as they haven't been baptized, the adolescents can leave their homes, buy cars, play with technology, and experience other things forbidden in their communities. This is a time for reflection and deciding whether or not they want to become members of the church. Amy is from Amish country in Pennsylvania, but she is not Amish. Her best friend from college, New York fashion magazine editor Talia, decides to make a project out of Amy by treating her to her very own "momspringa." Amy's mospringa will include a complete and total makeover, exciting New York City activities including dating, a magazine feature article, and a whole lot of reflection.
Momspringa doesn't sound like a bad idea...especially for a single mom, does it?
Amy's children Cori (15) and Joe (12) have been Amy's sole focus for the past three years after their deadbeat father leaves them to run away to Hong Kong with a young honeypot. Not only does he abandon his family, he abandons them with a mortgage (in Bucks County no less) and no money for them to live. Amy had been a stay at home mom, but fortunately she finds employment at her children's private school as a librarian. Her "escape to New York" is actually for a librarian conference at Columbia where she can earn professional development hours. She's also a presenter, and her topic is genius: a "flexthology" where students can choose their own books uploaded to their e-readers based on theme/interest. Eliminating reading groups, the theory is that lower readers will feel more inclined to read as they aren't labeled as being in the lower group, and of course it won't hurt the higher level readers because they can still be challenged by choosing books above grade level. Sorry about my geek-fest here, but there's tons of nerd humor in the book, too, especially from very hot librarian Daniel.
Y'all must read this book. It would make the perfect book club selection because everyone will finish it: Kelly Harms' witty dialogue, quirky, well-drawn characters (Lena-the-former-nun and Amy's best friend is a favorite), and honesty about the complicated feelings all mothers have will leave readers plenty to discuss at your next meeting. This book is the perfect gift for mothers of all ages, and it's aptly dedicated to single mothers everywhere.
Disclosure:
I'd like to thank the publisher via TLC Book Tours for sending me a hardcover copy of
The Overdue Life of Amy Byler
in exchange for a fair and honest review.
The book cover below is an affiliate link for purchase via IndieBound.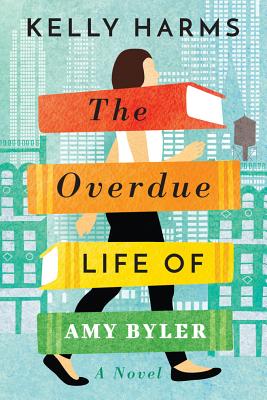 Until next time...
Happy reading!
Ricki Jill