Happy Literary Friday, My Lovelies!
Today I'm sharing a fun novel by Louise Miller:
The Late Bloomer's Club.
You might recall that I reviewed her first novel,
The City Baker's Guide to Country Living
a couple of months ago. Both novels are set in the rural Vermont town of Guthrie, and it was fun to get glimpses of some of my favorite characters from the first novel in the second one.
According to Goodreads
A delightful novel about two headstrong sisters, a small-town's efforts to do right by their community, and the power of a lost dog to conjure up true love
Nora, the owner of the Miss Guthrie diner, is perfectly happy serving up apple cider donuts, coffee, and eggs-any-way-you-like-em to her regulars, and she takes great pleasure in knowing exactly what's "the usual." But her life is soon shaken when she discovers she and her younger, free-spirited sister Kit stand to inherit the home and land of the town's beloved cake lady, Peggy Johnson.
Kit, an aspiring--and broke--filmmaker needs to generate funding for her latest project, and is particularly keen when they find out Peggy was in the process of selling the land to a big-box developer before her death. The people of Guthrie are divided--some want the opportunities the development will bring, while others are staunchly against any change--and they aren't afraid to leave their opinions with their tips.
Time is running out, and the sisters need to make a decision soon. But Nora isn't quite ready to let go of the land, complete with a charming farmhouse, an ancient apple orchard and clues to a secret life that no one knew Peggy had.
Troubled by the conflicting needs of the town, and confused by her growing feelings towards Elliot, the big-box developer, Nora throws herself into solving the one problem that everyone in town can agree on--finding Peggy's missing dog, Freckles.
When a disaster strikes the diner, the community of Guthrie bands together to help her, and Nora discovers that doing the right thing doesn't always mean giving up your dreams.
My Review:
I'm beginning to get attached to this little Vermont hamlet and her residents: They're all quirky, passionate, complicated, and very, very interesting.
This one begins with the untimely heart attack and car wreck of Guthrie's cake lady, Peggy Johnson. Peggy's loyal border collie companion Freckles escapes the wreckage and runs away. The search for and sightings of Freckles is a motif throughout the novel, and it's symbolic of the search for the main characters' true purpose. As an example, Nora's heart doesn't really belong to the diner she inherited from her parents; she doesn't even cook! Also, Nora's love interest Elliott seems way too grounded and generous to work as a location scout and negotiator for a "big box" store.
One of the story's mysteries is why Peggy had intended to sell her property to a big box store chain. Nora doesn't want to sell, and she's being pressured not to sell by most residents because the large super center would hurt most local mom and pop stores. She's torn about what to do: As one of Peggy's heirs she wants to uphold her wishes (not to mention that her sister Kit wants to sell so she can finance her movie she's filming). When a series of unfortunate events makes it certain that Nora and Kit MUST sell, all is not lost. This book has one of the most unexpected and happy resolutions ever.
One of my favorite characters is Max. Max is Kit's boyfriend, and he's a veritable Jack of All Trades. He did a stint as a baker, and his skills enable Kit and Nora to fulfill Peggy's outstanding cake orders. Louise Miller shares Peggy's famous Burnt Sugar Cake with Maple Icing in the back of the book. This recipe alone is worth the book's price, but fortunately for her readers, Miller has written a charming, inspiring story reminding readers it's never too late to chase dreams.
NOTE: I purchased this book at my favorite Indie bookstore, Sundog Books in Seaside, Florida.
Below is an affiliate link for Indie Bound.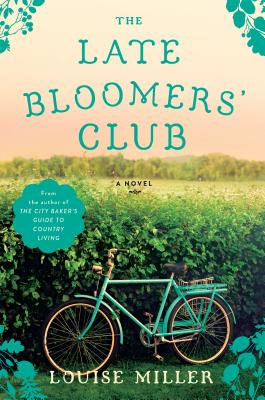 Until next time...
Blessings!
Ricki Jill