Happy Monday! I hope that y'all are having a blessed Holy Week. Today I want to share with you The House on Harbor Hill by Shelly Stratton.
According to Goodreads:
Set in the past and present, The House on Harbor Hill is a murder mystery that tackles the issues of racial prejudice and spousal abuse in the lives of two very different women...
She's generous, kind, and compassionate--yet Delilah Grey will forever be an outcast in the small seaside town of Camden Beach, Maryland. She takes in women shattered by abuse, poverty, illness, or events beyond their control. But no matter how far she's come or how many she's helped find their way back, there is no safe place for Delilah. Acquitted of her rich husband's mysterious death decades ago, she lives in her beautiful mansion consumed by secrets--and mistakes she feels she can never atone for. . . . Until she takes in desperate mother Tracey Walters and her two young children.
Tracey won't say where she's from or what sent her into hiding. But her determination and refusal to give up reminds Delilah of the spirited, hopeful girl she once was--and the dreams she still cherishes. As Tracey takes tentative steps to rebuild her life, her unexpected attraction to Delilah's handsome, troubled caretaker inadvertently brings Delilah face to face with the past. And when Tracey's worst fears come brutally calling, both women must find even more strength to confront truths they can no longer ignore--and at last learn how to truly be
free . . .
Resonant, moving, and unforgettable, The House on Harbor Hill paints an unforgettable portrait of two women struggling to forgive themselves, take a chance on change, and challenge each other to finally live.
My Review:
I was pleasantly surprised with this book, and part of the reason why is because I loved Delilah's character so much. She's smart, kind, giving, and she has excellent taste in literature (of course I must mention that little tidbit). Delilah's mysterious backstory is told via flashback. It's the 1960s, and she's working as a maid. Unfortunately for her, she falls for the wrong man and it has nothing to do with his race. It's a common trope: smart girl falls in love with dishonest man who wore a mask in the beginning, full of romance and charm, only to turn into his monstrous true-self once he's manipulated her into falling for him. Delilah's husband Chauncey is so abusive over the slightest things. His rules are ridiculous, and his wrath is quick: He bruises her because the soup is overly salted, and he punches her in the mouth when she wakes him up late at night when his not-very-delightful sister Mindy calls. It doesn't take much to set him off.
The rest of the narrative takes place in the present: Delilah runs a shelter for women and children who need a safe haven. She can relate to the abused women and minister to them on a level that most can't as she's experienced spousal abuse herself. Tracey's story mirrors Delilah's although she doesn't divulge much about her history. However, Delilah's history is fodder for gossip, and Tracey questions whether or not it's a good idea to allow her children to stay with a women who was accused of murder. Tracey decides to move into Harbor Hill, and she begins to blossom, especially in the eyes of Aidan the caretaker's eyes. She even feels secure enough to re-enroll in college and finish the last few credits towards her degree. I love Aidan's character, too. He has a tragic past and needs healing like many of the women who've stayed at Harbor Hill.
Although I correctly anticipated several plot points, there are unexpected surprises in the narrative that I don't want to spoil for you. I do highly recommend this book not only because of the wonderful characters, but because I liked the pace; there isn't a single boring scene. Plus the ending is very satisfying! This is the first book I've read by Shelly Stratton, and I'll definitely read more of her books. If you like Menna van Praag (
The House at the End of Hope Street
), Elizabeth Berg (
Open House
) and Sue Monk Kidd (T
he Secret Life of Bees
), you'll enjoy
The House on Harbor Hill
. Put it on your spring reading list!
Disclosure:
I received a copy of The House on Harbor Hill from the publisher via
TLC Book Tours
in exchange for a fair and honest review.
Below is an IndieBound affiliate link for purchasing the book: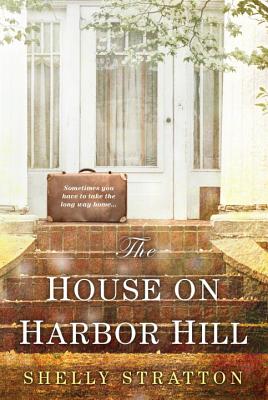 Connect with Shelly at her website HERE.
Until next time...
Happy reading!
Ricki Jill