Happy Literary Friday, My Lovelies! Today I'm sharing a darling Christmas present idea for the middle readers in your life: Whistlestop Tales: Around the World In 10 Bible Stories by Krish and Miriam Kandiah with illustrations by Andy Gray.
About Whistlestop Tales:
Hardcover: 240 pages
Grade Level: 3-4
Age Level: 7-12
Discover exciting Bible stories from around the world to inspire you on your own adventure with God!
The Bible is filled with stories featuring rich, cultural diversity. In the Bible, we meet an Iranian queen, a Syrian spy, an Italian soldier, and a Sudanese senator, to name just a few of the many ethnically diverse people that God has woven into his grand redemption story.
Whistlestop Tales features ten Bible stories that illustrate how God uses people from all over the world to accomplish his purposes. Each story begins with a closer look at the modern-day country where it took place to help anchor the characters in their original context and cultures, providing a new perspective on the lives of these brave men and women. These action-packed stories will encourage children to live out their own unique adventures with God.
My Review:
This is a precious book! The Kandiahs did a lovely job in choosing the Bible stories, heroes, heroines, and even villains. They also give young readers super points of reference concerning not only the modern day cultures of the countries featured, but also historical context for each story. One of my favorite heroines in the Bible is Queen Esther, and I am thrilled that her story is included in this little anthology. Her story takes place in Iran, and I learned that cookies are an Iranian invention! Who knew? The cultural references always relate to the stories themselves. For example, in Esther's story, the cultural focus is on meals and how Iranians entertain. This relates to how Esther saves her people as a reward for an outstanding dinner party. Children of all ages will enjoy learning about the cultures as well as the exciting stories. Andy Gray's winsome illustrations are sure to delight young readers of all ages.
Another thing I appreciate about this book: At the end of each of the stories, the authors have included the biblical references. This is important because it allows you and your children to look-up the stories and see where they are located in the Bible.
This book is perfect for oral reading time. As a former teacher I cannot stress enough the importance of reading to your children no matter how well they read. I highly recommend this book, and it would make a wonderful Christmas present for the middle grade children in your life.
I would like to thank the publisher and TLC Book Tours for sending me a copy of Whistlestop Tales in exchange for a fair and honest review. Thanks for asking me to be a part of the tour!
Below is an IndieBound affiliate link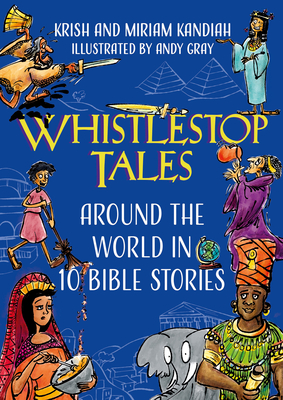 Have you started your Christmas shopping yet?
Until next time...
Blessings!
Ricki Jill