Shanley Belle and Christopher's treehouse in Ann Arbor.
Happy Wednesday, My Lovelies! I hope y'all had a lovely Mother's Day Weekend. I celebrated a birthday May 2nd, and then Mother's Day, so I've been very busy! I keep intending to write a few blog posts, but it takes me a long time to accomplish just about anything these days.
Today I'm sharing a delightful new novel by Catherine Drake: The Treehouse on Dog River Road. I was intrigued by it because it has been compared to two books I absolutely love: Evvie Drake Starts Over (one of my favorite books of 2019) and The Overdue Life of Amy Byler.
According to Goodreads:
Twenty-eight-year-old Hannah Spencer wants nothing more than to change everything about her life.
After ten years of living in cities, Nathan Wild has just moved back home to Vermont and doesn't want to change anything about his.
Recently laid off from her depressing job in Boston and ready for a challenge, Hannah heads to Vermont for the summer to take care of her sister's kids and do some serious soul searching. There, against the stunning landscape of the Green Mountains, she embarks on an ambitious project: building a treehouse for her niece and nephew. As she hammers away, she formulates a plan to jump-start her life with a new job out West. But will Nathan-next-door complicate her desire to change course? A witty, romantic, and inspiring story of a young woman taking control and making tough choices about love and work to build the life she wants, The Treehouse on Dog River Road will have you rooting for Hannah every step of the way.
Catherine worked for many years in the land conservation field developing public outdoor recreation areas and preserving forests and farmland for future generations. After raising two daughters, she and her husband moved to Vermont where she began writing her first novel, The Treehouse on Dog River Road. Still active in the environmental community, Catherine serves on the local land trust and conservation commission and enjoys cycling, skiing, kayaking, and hiking in the Green Mountains and other beautiful spots around the world.
I enjoyed this little gem of a book so much. And it's true: I did root for Hannah throughout. Her character is compelling for many reasons:
Hannah knows that although she was good at her corporate job in Boston, she was not making the type of contribution to society she wanted to make.

She quits her job and volunteers to care for her niece and nephew while her sister and brother-in-law, university research scientists, can conduct research in South America for the summer.

She intends to spend time while in Vermont doing a little research of her own for her next career move by exploring the type of job she'd like and seeking end of summer job interviews; she's proactively taking charge of her career change, and she's ready to move on!
Hannah does have downtime during the day w
hile Nora and Owen are at summer day camp, so she thoughtfully puts together a vision board to help her decide what her next career choice should be. But the vision board, shopping, and chores don't take that much time, and Hannah decides to take on quite a big project: building a treehouse for Nora and Owen. She's confident she can accomplish this feat due to her extensive experiences as a Habitat for Humanity worker. After graduating from college, Hannah worked for the organization in Africa. She knows how to design and build basic structures, and she is confident she has the time to complete it. It is becoming a summer for planning!
Hannah would also like to meet friends and have some social time while in Vermont, too. Her meet-cute with the new neighbor Nathan is funny yet cringe-worthy at the same time. Hannah runs into Nathan around town several times and nimbly avoids having to speak to him. Once they do speak, he awkwardly invites her to a family wedding which she thinks is weird (because there's a misunderstanding about the circumstances surrounding the wedding), but eventually the pair begin dating.
Another thing I like about the book is that it's about two sweet families: the Spencers (Hannah's family) and Nathan's family, the Wilds. Nathan has a brother and two sisters, and they are all very supportive of each other, and they're close to their extended family, too. I enjoy reading stories about close-knit families, and this book has two of them.
As the summer comes to an end, it's evident that Nathan is Hannah's perfect match. However, Hannah is determined not to let anyone influence her about her next career move, and she's set to interview for jobs in Western States. Her close-knit family all live in New England, and they would also miss her terribly. But will Hannah continue on her path to pursue jobs out West and not be deterred by her family and Nathan? Perhaps she should revisit and take note of how her vision board has changed over the summer!
If you are looking for a sweet romance about a kind, thoughtful, and goal-oriented main character with an equally engaging love interest, then you will definitely like The Treehouse on Dog River Road. It is sure to be one of the top beach and lake reads of the summer.
Disclosure: I'd like to thank BookSparks PR and She Writes Press for sending me an ARC of The Treehouse on Dog River Road in exchange for a fair and honest review. What a treat!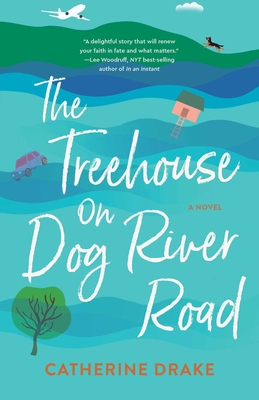 IndieBound affiliate link
Until next time...
Happy reading!
Ricki Jill