Happy Wednesday, My Lovelies! Today I'm reviewing a young adult selection entitled Tahira in Bloom by Farah Heron. I've already shared a couple of books that would make wonderful Christmas presents for adults (The Sweetness of Water and Once Upon a Wardrobe), and today I'm sharing a book for the young adult (YA) in your life. On Friday I will share a children's book selection.
According to Goodreads:
Life is full of surprises in a winning novel about a girl dreaming big during one unexpected small-town summer.
When seventeen-year-old aspiring designer Tahira Janmohammad's coveted fashion internship falls through, her parents have a Plan B. Tahira will work in her aunt's boutique in the small town of Bakewell, the flower capital of Ontario. It's only for the summer, and she'll get the experience she needs for her college application. Plus her best friend is coming along. It won't be that bad.
But she just can't deal with Rowan Johnston, the rude, totally obsessive garden-nerd next door with frayed cutoffs and terrible shoes. Not to mention his sharp jawline, smoldering eyes, and soft lips. So irritating. Rowan is also just the plant-boy Tahira needs to help win the Bakewell flower-arranging contest—an event that carries clout in New York City, of all places. And with designers, of all people. Connections that she needs!
No one is more surprised than Tahira to learn that floral design is almost as great as fashion design. And Rowan? Turns out he's more than ironic shirts and soil under the fingernails. Tahira's about to find out what she's really made of—and made for. Because here in the middle of nowhere, Tahira is just beginning to bloom.
My Review:
One reason I agreed to be a part of this book tour is because I have enjoyed reading YA books with our daughters over the years, and I haven't read one since Holly Black's The Cruel Prince. I also like that Farah Heron, a romance writer, wanted to write something age-appropriate for her teenaged daughter. That touched my heart!
Tahira in Bloom is a sweet story about a high school rising senior who attends an art school. Her goal, or "Plan," is to do everything possible to get into the Fashion Institute of Technology (FIT). She has wanted to become a fashion designer since she was a young child, and her hard work has paid off with exceptional grades and edgy urban designs. Unfortunately for Tahira, her dream summer internship with one of Toronto's top fashion designers is canceled. Tahira's intrepid, supportive parents come up with a Plan B: Rebranding her Aunt Shar's boutique in tiny Bakewell. Bakewell is known for flowers: there are flower farms, botanical labs and commercial greenhouses, and a flower festival at the end of the summer replete with a Bloom floral design competition. Tahira is terribly allergic to flowers, and they are literally everywhere in the town.
Tahira's first introduction to the teens of Bakewell is at the local garden center where Rowan works. She unsuccessfully attempts to take a selfie in front of a geometric mural and ruins her pretty suede boots with manure. It's the anti-meet-cute! Rowan is not impressed with her in the least, and he thinks she's a vapid, Instagram influencer who only cares about her following. Tahira thinks that Rowan is judgmental and mean. Neither realize until later that Rowan is literally the boy next door: the Johnstons live next door to Tahira's Aunt Shar! (I've always liked the boy next door trope.)
Eventually, Rowan and Tahira decide to join forces and enter the Bloom competition because the winning team receives a trip to New York City. Winning would mutually benefit them; Rowan starts college in the fall, majoring in landscape architecture, and Tahira could meet a fashion designer at a winners' event in the city. Will Tahira and Rowan make a good team, or will other opportunities distract them?
This book touches on important topics for teenagers:
peer pressure: When other opportunities come along, should one bow to peer pressure or keep previous commitments?
setting goals and making plans to achieve them: Unlike most YA books, Tahira's parents are involved and want to help her achieve her goals and stick to the Plan. I love that about this book!
healthy use of social media: Social media is time consuming, and art should come first. Cream rises to the top, and better art (fashion designs) will eventually lead to a following.
microaggressions: Tahira is of Indian ancestry, and she's Muslim. Rowan is black. Both have been hurt by microaggressions.
dating and break-ups: How much influence should a boy have on a young lady's Plan for success? (none. The answer is always none.)
I enjoyed this book, and I think most teens would, too. Tahira's story arc is inspiring in how she took a disappointing situation and made the best of it. Her decision making process matures, and she does bloom as the title suggests.
I also wanted to share with you how pretty the book itself is. I love pretty book covers (not just dust jackets). I think pretty, well-written books make nice gifts.
Look how pretty the back and the front of the book is!
The color is closer to the green than the yellow.
NOTE TO PARENTS: There are some mature situations and language, and my least favorite, using Jesus's name in vain. (I know teenagers talk like that, but I don't have to like it. Y'all know how I am about cursing.) I would not suggest this book for immature, younger teens. The topics in the book will lead to healthy discussions, and I think it would be a super book club selection for older teens.
Disclosure:
I received a hardcover copy of
Tahira in Bloom
from the publisher via
TLC Book Tours
in exchange for a fair and honest review.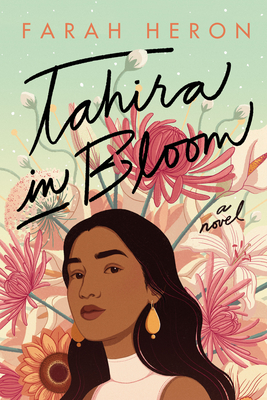 IndieBound Affiliate Link
Until next time...
Happy reading!
Ricki Jill