Happy Literary Friday, My Lovelies! Do you have super-fun plans for the weekend? We sure do! ;P
I wanted to write a quick review for the book I read this week: Shiner by Amy Jo Burns. It is set in the mountains of West Virginia, and its characters are from one of the most impoverished groups in the United States. Although a work of fiction, the living conditions are accurately depicted.
According to Goodreads:
An hour from the closest West Virginia mining town, fifteen-year-old Wren Bird lives in a cloistered mountain cabin with her parents. They have no car, no mailbox, and no visitors-except for her mother's lifelong best friend. Every Sunday, Wren's father delivers winding sermons in an abandoned gas station, where he takes up serpents and praises the Lord for his blighted white eye, proof of his divinity and key to the hold he has over the community, over Wren and her mother.
But over the course of one summer, a miracle performed by Wren's father quickly turns to tragedy. As the order of her world begins to shatter, Wren must uncover the truth of her father's mysterious legend and her mother's harrowing history and complex bond with her best friend. And with that newfound knowledge, Wren can imagine a different future for herself than she has been told to expect.
Rich with epic love and epic loss, and diving deep into a world that is often forgotten but still part of America, Shiner reveals the hidden story behind two generations' worth of Appalachian heartbreak and resolve. Amy Jo Burns brings us a smoldering, taut debut novel about modern female myth-making in a land of men-and one young girl who must ultimately open her eyes.
My review:
One reason this book caught my eye is because
Joshilyn Jackson
, one of my favorite writers, recommended it.
I could not put this book down: it is mesmerizing. Wren, the young protagonist, is one of the bravest young characters I've read in a very long time. She is strong and intuitive: Her courage during her darkest hour is so admirable. However, Wren's story and her coming of age is not THE story in this novel. The true story is the friendship between Wren's mother Ruby and her best friend Ivy. These women have a compact to support each other and never leave the mountain, which is the direct opposite of their girlhood plans to escape the mountain's poverty, spousal abuse, and strange religion. So the big question in the narrative is this: What made them change their mind and stay?
Ruby's husband Briar and his best friend Flynn both love Ruby. Their love triangle isn't completely revealed until the second half of the book, and both men have a shocking secret burdening them. Ivy is also in the middle of it, and the backstory explains much of these characters' future decisions and actions. Amy Jo Burns masterfully weaved this story together. Shiner is lyrical, and it's very fitting that the narrative from Flynn's point of view has chapters with musical terminology.
If you enjoy family sagas from interesting characters with an undeniable sense of place, you should enjoy Shiner.
For fun, you can read a few definitions of Appalachian words
HERE
. We live in the foothills of the Appalachians (considered to be the oldest mountains in the world), and I've heard Alabamians, including family members, use a few of these words: branch, booger, gaum, varmint, sorry and blackberry winter.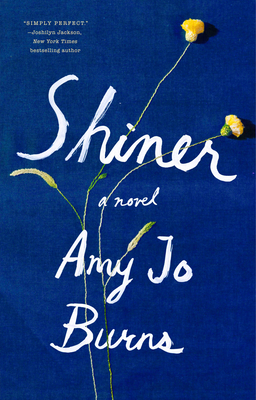 IndieBound Affiliate Link
Have you read anything wonderful lately? If so, please share in the comments section below.
Until next time...
Happy reading!
Ricki Jill