Happy Thursday, Lovelies!
Recently, we had a little tea party as part of our celebration of Hot Tea Month. We were planning a winter wonderland party, but we're tired of winter. We instead decided to decorate for Valentine's Day, but without a lot of pink and red. During the party we celebrated Shelley's last semester of undergrad. YAY!!!
We had fun decorating the table. I chose a linen table runner that feels like spring and summer, but it does have thistles on it, which is reminiscent of winter.
Our menu for the party:
Mr. and Mrs. Beaver's Ham Sandwiches
Three Ingredient Scones
Darjeeling Hot Tea
The Mr. and Mrs. Beaver Ham Sandwiches are from a delightful book entitled A Literary Tea Party by Alison Walsh. Mr. and Mrs. Beaver are characters from The Lion, the Witch, and the Wardrobe by C.S. Lewis. The roll-up sandwiches are made on oatmeal bread and are filled with cream cheese, pesto, and prosciutto. Readers of my newsletter can see the recipe in the February edition.
Mr. and Mrs. Beaver's Ham Sandwiches
These went quickly, and I almost forgot to get a photo of them.
I would also recommend these sandwiches for a picnic or luncheon.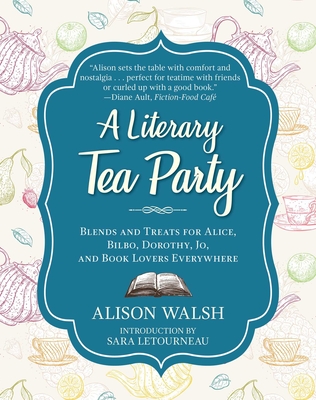 IndieBound Affiliate Link
This recipe book is perfect for the bibliophile who loves tea parties!
I served the scones with lemon curd and raspberry preserves. The scones aren't very sweet, which is another reason why I love them!
The scone recipe is genius! You will find it below. I love the scones because they are very light. The carbonation in the lemon soda allows the scones to rise.
This recipe is everywhere (I found several sources sharing it), so I'm unsure who the genius is who created it.
Three Ingredient Scones
You will need:
3 cups self-rising flour
1 cup lemon flavored soda
1 cup heavy cream
*You will also need cooking spray.
1. Preheat the oven to 425 degrees F. Grease a baking sheet with cooking spray; lightly dust with flour.
2. Sift self-rising flour into a large bowl. Combine lemon soda and cream and pour over the flour. Mix until dough is just combined. Turn dough out onto the prepared baking sheet. Flour your hands with a lot of flour and gently pat dough into a large rectangle. Do not overwork the dough. Cut into triangles or squares.
3. Bake in the preheated oven until golden, 10 to 12 minutes. I used a larger biscuit cutter, so mine baked for 14 minutes.
Homeschooling parents and grandparents: Making this recipe is a wonderful lesson in chemistry (baking is chemistry, after all) for younger children! Plus it is very simple to mix, and an adult can assist with the sticky part.
Have you been celebrating tea this month? Or are you like me, celebrating it all year long ;P