Hello, Lovelies! How is your week so far? It's Wednesday, and I know y'all are dying to know: What I'm Reading Wednesday.
Today I'm sharing Seasonal Flower Arranging by Ariella Chezar and Julie Michaels. Ariella is one of the most talented florists, and she's also an excellent teacher. She holds workshops, teaching her techniques to eager students.
Isn't the cover gorgeous!
This summer arrangement includes stunning peonies, bearded iris, and climbing nasturtium.
The photographer for the book is the very talented Erin Kunkel. I have bought cookbooks she's photographed because she is that good, including
Vintage Cakes
.
This arrangement is from the Spring section. and it includes mandarins and other bumpy citrus, ranunculus, and minnow narcissus.
This arrangement is called Spring Awakening, and I love the anemones, ranunculus, and mustard flower stems.
I love this book because it is like a recipe book for flowers. Each pretty arrangement has a name, like "Spring Awakening" or "Autumn Rose Medly," and the recipes list each "ingredient" used to make the arrangement.
I love trying new things, so I thought I would try my hand at one of the winter arrangements. It has been very dreary here in Central Alabama this month (typical of January), however there seems to have been even fewer sunny days.
I thought I would try to replicate the winter arrangement, below.
This one is called Holiday Party Arrangement. I liked the pretty shades of green in it, and I thought it would be pretty for our little winter tea party coming up.
Because of COVID, I ordered the stems from a downtown florist (with a large variety of stems) and requested their curbside pick-up service. I was very explicit about what I wanted. I knew they probably didn't have everything in the "recipe," but I had a few alternatives to give my arrangement the same look. I wanted to recreate a loose, low, and flowing arrangement, and I twice told the lady on the phone that I had my own container, and I only wanted the loose stems.
This is what they gave me:
They sold me a tightly-packed arrangement of flowers in a concrete container: They charged me for it, of course. I could've ordered something very similar from Olive and Cocoa and had it delivered to our home and not driven downtown. They only had three of the stems on my list, and they put lilies in it. I usually have problems with lilies (allergies) which I did before I even got it home. I stashed it upstairs for Shelley to enjoy because I can't be around it.
I politely told them at the curb what had happened, and they were perplexed and couldn't understand why I didn't like the winter arrangement. They still weren't listening; I had to repeat again that I had a container I wanted to use at home, and I simply wanted to buy the loose stems. Frustrated and not wanting to make a scene, I accepted the arrangement and left. I was downtown, and I didn't want to drive out of town in heavy afternoon traffic: I was trying to beat it.
I realize this is definitely a first world problem. I know people are losing jobs, businesses, and loved ones. People are sick (my SIL has COVID). But I did save up a little pocket change so I could make something beautiful for our home, something nice for our little tea party as Shelley begins her last semester of college. Plus it would have been a unique opportunity for me to learn something new, a tactile activity/craft.
I've decided to try again in the spring, and I will purchase the flowers from another source. Still, I'm grateful I'm healthy and have the gift of this beautiful book.
Below is a video featuring Ariella. I hope you will take the time to enjoy viewing it.
Below is an IndieBound affiliate link for the book.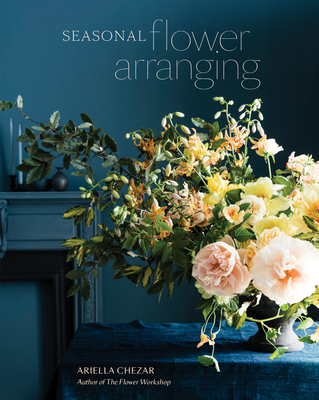 Until next time...
Blessings!
Ricki Jill