Happy Literary Friday, My Lovelies! Tired of your Christmas dessert recipes that the Ghost of Christmas Past has had every year? Are you looking for a few different and creative Christmas treat recipes? Do you like cozy mysteries set during Christmas? If so, you must pick up a copy of Joanne Fluke's Christmas Cupcake Murder.
According to Goodreads:
Featuring over a dozen cookie and dessert recipes from The Cookie Jar—Hannah Swensen's famous bakery, this festive new Christmas mystery from the Queen of Culinary Cozies is just the holiday treat you need this season!
"Don't miss this charming mystery, which will also satisfy your sweet tooth." —Booklist STARRED REVIEW
As December turns Lake Eden into the North Pole, the heat is on in Hannah Swensen's kitchen to honor two Christmas promises: baking irresistible holiday cupcakes and preventing murder!
While Hannah speeds through a lengthy holiday checklist, drama in town grows like Santa's waistline on Christmas Eve. Her sister Andrea wants to stave off the blues by helping out at The Cookie Jar, Michele's love life is becoming complicated, Lisa needs Hannah's advice, and Delores has a Christmas secret she's not willing to share. But nothing dampens the holiday mood more than the chilling mystery surrounding the man found near death in an abandoned storefront two doors down from Hannah's bakery . . .
The befuddled John Doe can't recall a thing about himself—except for his unusual knowledge of restoring antique furniture. With a smattering of clues and barely enough time to frost Christmas cookies, Hannah must solve a deadly puzzle that could leave her dashing through the snow for her life!
My Review:
The first thing you need to know about this book is that it is a prequel of sorts to the entire series. This is great for new readers, but the Hannah Swenson Bake Shop fans, for the most part, are disappointed. Fans are unhappy, but they should've known about the book being a prequel before purchasing and/or reading because the book blurb clearly states that it is an earlier story.
Hannah is one of three sisters, and the youngest sister Michele is in college during this narrative. Michele is planning on visiting her boyfriend and meeting his family during the Christmas holidays (a very big step), and Andrea's daughter is a baby, and she wants to help Hannah at her bakery during Christmas. The only problem is that Andrea doesn't bake. But when a man is discovered with a traumatic brain injury in a storefront near Hannah, she recruits Andrea's assistance in discovering the true identity of "Joe Smith." There are very few clues about who he is because he's suffering from amnesia, and Doc Knight suspects that the injury was caused from an attempted murder. The town's sheriff isn't convinced, and he doesn't want to waste the resources to investigate, but no worries! Hannah Swenson is on the case! This is another reason why this mystery is not the usual: the victim survives the attempted murder!
There is lots of eating, meals, and scenes in Hannah's bakery, so there's lots of talk of food and recipes in the book. Minnesota winters are so cold that I guess that's about all people can do: drink warm drinks and eat good food! The Goodreads blurb is wrong: there are closer to two dozen recipes in this little book. I enjoyed reading them, but I am one of those readers who enjoys reading recipes. I let one of my daughters read through the recipes, and she's found two cupcake recipes she wants us to bake for Christmas: White Chocolate Eggnog Cupcakes, and Chocolate Surprise Cupcakes with Chocolate Cherry Frosting. I would like to bake the Pink Peppermint Cookies.
I think readers should judge a book for what it is, and this one is a cozy (almost) murder mystery with lots of foodie dialogue and recipes. My only criticism is that Joanne Fluke calls people with intellectual disabilities "slow." (The term MR is no longer used, either.) There are two intellectually disabled characters in the book, and she called them slow more than once. Each time a character talked to one of the characters with ID, they kept repeating his name over and over. It's 2020. I know this year has sucked, but still....I'm docking her one star for it!
Recipe for Cinful Sugar Cookies
Ingredients:
Sugar Cookie Dough
1/4 c granulated sugar
1/2 t ground cinnamon
1/4 t ground nutmeg
1/8 t ground cardamom
Sparkling Sugar (I used white.)
Cook's Note 1: You can use your own cookie dough recipe, or use store-bought. I used Pillsbury because I had it on hand. When I used a small ice cream scoop to scoop the batter, I had enough dough for 14 cookies.
Procedure:
1. Preheat the oven according to package instructions (350 for Pillsbury).
2. Place sugar and spices into a ziplock baggie. Shake them up well, and then place the contents in a wide, shallow bowl.
3. Roll dough between your palms and make a ball, about the size of a walnut. Roll the dough in the sugar and place three inches apart on a prepared cookie sheet (I use parchment paper).
4. Use a glass with a flat bottom to gently press each cookie dough ball until it is about 1/2 " tall. Sprinkle with sugar.
5. Bake for around ten minutes, but follow your recipe.
Cook's Note 2: I used white sparkling sugar. The cookies look prettier in person, but the photos do not show the pretty sugar. Next time I will use red and green for Christmas.
Cook's Note 3: Hannah Swenson is of Scandinavian descent, and cardamom is often used in baking in Northern Europe.
I was very happy with the recipe, and the cookies pair very well with cappuccinos and other coffee drinks.
If you're homeschooling young children, this recipe is a great lesson for fractions, and little hands enjoy rolling the dough in the sugar and spices.
Below is an IndieBound affiliate link for purchasing the book.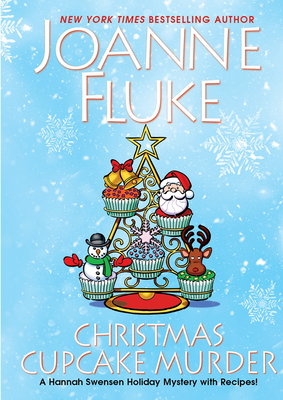 Have you been baking yet for Christmas? Does your family request specific cookie recipes at Christmas?
Until next time...
Happy reading!
Ricki Jill