Happy Tuesday, My Lovelies! I have a book that would make the perfect gift for the history lover in your life: The Patriots: Alexander Hamilton, Thomas Jefferson, John Adams, and the Making of America by Winston Groom. This book would make a lovely addition to your home library!
According to Goodreads:
In this masterful narrative, Winston Groom brings his signature storytelling panache to the intricately crafted tale of three of our nation's most fascinating founding fathers--Alexander Hamilton, Thomas Jefferson, and John Adams--and paints a vivid picture of the improbable events, bold ideas, and extraordinary characters who created the United States of America.
When the Revolutionary War ended in victory, there remained the stupendous problem of how to establish a workable democratic government in the vast, newly independent country. Three key founding fathers played significant roles: John Adams, the brilliant, dour, thin-skinned New Englander; Thomas Jefferson, the aristocratic Southern renaissance man; and Alexander Hamilton, an immigrant from the Caribbean island of Nevis. In this complex and riveting narrative, best-selling author Winston Groom tells the story of these men--all of whom served in George Washington's first cabinet--as the patriots fundamentally responsible for the ideas that shaped the foundation of the United States.
Their lives and policies could not have been more different; their relationships with each other were complex, and often rife with animosity. And yet these three men led the charge--two of them creating and signing the Declaration of Independence, and the third establishing a national treasury and the earliest delineation of a Republican party.
The time in which they lived was fraught with danger; the smell of liberty was in the air, though their excitement was strained by vast antagonisms that recall the intense political polarization of today. But through it all, they managed to shoulder the heavy mantle of creating the United States of America, putting aside their differences to make a great country, once and always. Drawing on extensive correspondence, epic tales of war, and rich histories of their day-to-day interactions, best-selling author Winston Groom shares the remarkable story of the beginnings of our great nation.
My Review:
This is the first history I've read by Winston Groom, and it most certainly won't be my last. He wrote thirteen nonfiction books in all. I've read several of his fiction books:
Forrest Gump
is probably his most famous novel because the film adaptation won several Oscars. When
TLC Book Tours
invited me to participate in this book's tour, I was happy to do it because I'm a fan, and Winston Groom was a fellow Alabamian. Sadly, he died in September in Fairhope, Alabama, at the age of 77.
I like how the book is written in the begging: the first three chapters focus on the men individually. Chapter One gives an overview of Alexander Hamilton and his life up to his impressive victory on the battlefield at Yorktown, the decisive victory for the Patriots during the Revolutionary War. Chapter Two focuses on John Adams. I enjoyed this chapter far more than I expected: partly because of the Boston setting, and party because of the inclusion of Samuel Adams, John's cousin. Samuel organized the Boston Tea Party, and surprisingly John, normally a stalwart defender of law and order, thought that the rebellious escapade was the best thing ever:
"This is the most Magnificent movement of all. There is a dignity, a Majesty, a Sublimity, in this last effort of the Patriots that I admire...This Destruction of the tea is so bold, so daring, so firm, intrepid and inflexible and it must have so important Consequences, and so lasting that I cannot but Consider it as am Epocha in History." pp. 85-86
Chapter Three chronicles Thomas Jefferson, the Renaissance man of the Revolutionary Era. He was a polymath, competent in philosophy and law, science, music, and architecture. He was an inventor, planter, expert equestrian, and a brilliant writer. Jefferson was a slaveowner who also took several cases in which slaves sought their freedom. These court cases formed his philosophy concerning personal liberty given by the "author of nature."
The rest of the book primarily describes their interactions as the new republic was getting established. One of the chapters I enjoyed most was Chapter Six about Jefferson's ambassadorship to France beginning in 1784. It lasted literally beyond the storming of the Bastille. He was eventually allowed to return home to serve as Washington's Secretary of State. It was fun reading about how he and Hamilton clashed constantly and vexed Washington (John Adams was Washington's VP), and the only thing they agreed on was a second Washington administration. Also included in the book are paintings, etchings, and other art including Jefferson's portrait by Rembrandt Peale.
I don't need to retell the history, we know the tragedy of Hamilton, and how Jefferson and Hamilton ever made amends. But I do want to encourage you to read this incredible book. It's encouraging to read about Patriots who put aside differences with other leaders for the common good of the republic. If our leaders today would only do the same....
Below is an IndieBound affiliate link for purchasing the book.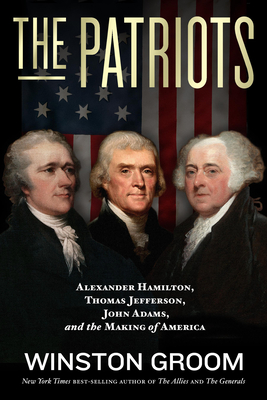 Disclosure: I received a hardcover copy of The Patriots from the publisher via TLC Book Reviews in exchange for a fair and honest review. Thank-you!
Until next time...
Happy reading!
Ricki Jill