Happy Literary Friday, My Lovelies! What have you been up to this week? I've been spending tons of time outside, enjoying our beautiful October weather. :D If you've been out and about all week and want some downtime with a book this weekend, I have a suggestion...
Today I'm sharing
Never Have I Ever
by Joshilyn Jackson. She is a favorite of mine, and you can read my review of one of my favorite books of 2017,
The Almost Sisters, HERE
.
According to Goodreads:
Amy Whey is proud of her ordinary life and the simple pleasures that come with it—teaching diving lessons, baking cookies for new neighbors, helping her best friend, Charlotte, run their local book club. Her greatest joy is her family: her devoted professor husband, her spirited fifteen-year-old stepdaughter, her adorable infant son. And, of course, the steadfast and supportive Charlotte. But Amy's sweet, uncomplicated life begins to unravel when the mysterious and alluring Angelica Roux arrives on her doorstep one book club night.
Sultry and magnetic, Roux beguiles the group with her feral charm. She keeps the wine flowing and lures them into a game of spilling secrets. Everyone thinks it's naughty, harmless fun. Only Amy knows better. Something wicked has come her way—a she-devil in a pricey red sports car who seems to know the terrible truth about who she is and what she once did.
When they're alone, Roux tells her that if she doesn't give her what she asks for, what she deserves, she's going to make Amy pay for her sins. One way or another.
To protect herself and her family and save the life she's built, Amy must beat the devil at her own clever game, matching wits with Roux in an escalating war of hidden pasts and unearthed secrets. Amy knows the consequences if she can't beat Roux. What terrifies her is everything she could lose if she wins.
A diabolically entertaining tale of betrayal, deception, temptation, and love filled with dark twists leavened by Joshilyn Jackson's trademark humor, Never Have I Ever explores what happens when the transgressions of our past come back with a vengeance.
My Review:
I knew I would love this novel because I have loved everything that Joshilyn Jackson has ever written, and I have read most of her books (
The Opposite of Everyone
is one of my all-time favorites). This book is different because it's a psychological thriller: I was on the edge of my seat for the entire read. The story begins at a book club meeting, hosted by the story's protagonist Amy and her best friend Charlotte. A new neighbor who is beautiful, obviously has had lots of work done, and spends an inordinate time at the gym, disrupts the book club meeting and monopolizes the activities. There is no discussion of the book few had read; instead Angelica Roux the interloper begins an insidious game of Never Have I Ever. She lures each woman into her creepy web via false flattery, which includes assigning a spirit animal to each woman. She then escalates the game as she continually refills glasses with wine or other spirits. Tongues are loosed, secrets flow. I recognized many of the players of the game in women I've known in my community, and you probably will, too.
However Amy isn't playing her game. She immediately recognizes Angelica as the predator that she is, and she perceives correctly that Angelica is in town because of her. Blackmail ensues, and the battle of wits between these two intelligent and secretive women begins. Amy loves her new life and her new identity, and she is not about to let anyone destroy her family. One of my favorite aspects of the book is Amy's stream of consciousness internal dialogue. Her thought process as she attempts to foil Angelica is fascinating to me! I also love the Pensacola, Florida setting. As I was led through a maze of Amy's past and her pursuit of Angelica's story and motivations, the plot could not have been any more surprising: I could not figure out anything, and I am usually pretty good at guessing plots. The resolution was shocking: I did not see it coming. If you know of anyone who enjoys psychological thrillers, recommend this one because it is that well written.
Below is an IndieBound affiliate link for purchasing Never Have I Ever.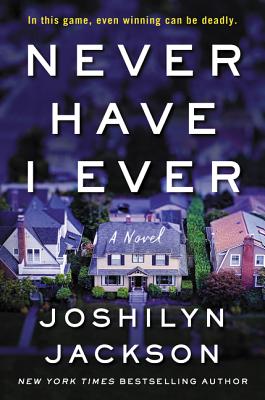 Until next time...
Happy reading!
Ricki Jill