The author sent me the ARC wrapped in this fun, shiny Christmas paper!
There's nothing better than fun snail mail!
Happy Thursday, My Lovelies! I'm so excited to share with you the cutest Christmas romance ever: Christmas Ever After by Karen Schaler.


Paying it forward, Karen is donating a percentage of each book sold to help support libraries and independent bookstores.


About Christmas Ever After
Paperback: 396 pages

Publisher:

Hawktale Publishing (September 29, 2020)
From Karen Schaler, the writer of the Netflix phenomenon A Christmas Prince and Hallmark's Christmas Camp comes this new heartwarming holiday romance. Mamma Mia meets The Bachelorette in Christmas Ever After...
While promoting her next novel, a Christmas love story, author Riley Reynolds is caught off guard when she's asked during a live national television interview how she can write about romance when she still hasn't found "the one" herself. Scrambling for an answer, she quickly answers that she has had great love in her past and that love inspired her novels.
Little does she know that this one offhanded remark will turn her world upside down. Three of her ex-boyfriends see the interview, and each, believing she's talking about him, shows up for her Christmas Camp book event at the Christmas Lake Lodge, determined to rewrite his happily-ever-after with her!
Over the festive weekend, Riley's old boyfriends compete to win her heart, pulling out all the stops while planning the most romantic Christmas dates on the planet. Despite herself, Riley starts falling for each guy- again-but for different reasons. As Riley revisits each relationship and discovers more about herself, she embraces the magic of Christmas and finally finds true love and her own Christmas ever after...
Bonus Content: Christmas Ever After includes delicious original Christmas recipes and fun holiday crafts and activities.
There's even a secret ingredient for hot cocoa in the book that I want to try!


***Head over to Karen Schaler's website to sign up for her VIP newsletter for the latest on her many giveaways, special event and sneak peeks and much more!***

Purchase Links



About Karen Schaler
Karen Schaler is a three-time Emmy Award–winning storyteller, screenwriter, author, journalist, and national TV host. Karen has written original Christmas movies for Netflix, Hallmark, and Lifetime, including the Netflix sensation A Christmas Prince, Hallmark's Christmas Camp, and four books, Christmas Ever After, Finding Christmas, Christmas Camp, and Christmas Camp Wedding, earning her the nickname "Christmas Karen" in the press. Karen has also created a real-life Christmas Camp experience for grown-ups, held around the world, where she carefully curates and hosts magical holiday activities from her movies and books and the show Christmas Karen: Behind the Story. For Karen's novel Finding Christmas she also wrote the movie. Traveling to more than sixty-five countries, Karen is the creator and host of Travel Therapy TV. All of Karen's stories are uplifting and filled with heart and hope. Find out more about Karen at her
website
, and connect with her on
Facebook
,
Twitter
,
Instagram
, and
YouTube
.
My Review:
I've been reading several heavy history and current events books lately, so it was a very nice change to read Karen Schaler's adorable new Christmas romance novel Christmas Ever After. It reminds me of screwball comedies from the 1930's (which is my favorite movie genre) because the two main characters must put aside their differences in order to work together to achieve their separate goals.
The protagonist is Riley Reynolds, a romance author who's successfully written several best sellers set in the summer. Her last one was a bit of a disappointment because it wasn't authentic, and it didn't really resonate with her many fans. Her overzealous agent Mike negotiates a Christmas romance with her publisher, promising that she is "Miss Christmas." It is a make or break assignment: Her career is dependent upon the success of the book. Before she shares her Christmas novel's outline with her publisher, she has been assigned to lead a Christmas Camp for her fans at a quaint family resort named Christmas Lake Lodge in the Rocky Mountains. The big problem for Riley is that she hasn't celebrated a real Christmas since she was eight years old.
After a disastrous national morning show interview, her three ex-boyfriends misunderstand a statement Riley makes about her true love. All decide to surprise her at the Christmas Camp in the hopes of winning her back. Luke, the son of the resort's owner, finishes her interview when Riley walks off the set during a commercial break; he is not happy with her, and wants to cancel the Christmas Camp. However, Riley and Luke do have a cute-meet before the unfortunate interview. The three exes get in touch with Luke individually to enroll in the Christmas Camp, and they each swear Luke to secrecy. Riley hates secrets, and she has no idea they're coming until the opening cocktail party reception. Madness ensues....
This book is hilarious, and I laughed out loud throughout it. If Hallmark ever adapts it, it will definitely be the funniest Countdown to Christmas movie ever in the history of the network. The secondary characters are well-drawn and delightful. It has everything a reader could ever want in a Christmas romance: lovely small town setting; a plethora of Christmas activities; a Bernese Mountain Dog named Comet; snappy dialogue; and sparks between the main characters. This funny book also has heart, and it's a sweet reminder of what's truly important during the season: faith, family, and traditions (old and new).
The following quote (found on page 280) sums-up the plot perfectly:
She exhaled slowly. "Okay," she said, already wondering what in the world she was getting herself into. Speed dating with her three exes at Christmas Camp while working to save her career and pretending she's Miss Christmas when she didn't even celebrate the holiday...What could possibly go wrong except everything?
Are you in the Christmas spirit yet?
I know I am!
Because sales of this book will help support Indie bookstores, I am including an
IndieBound
affiliate link for purchasing the book.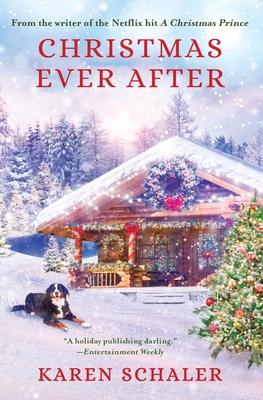 I'd like to thank TLC Book Tours for including me in this fun tour, and Karen Schaler for sending me an ARC of the book in exchange for a fair and honest review.
Until next time...
Happy reading!
Ricki Jill