Happy Literary Friday, My Lovelies! Today I'm reviewing a memoir that I almost turned down for a couple of reasons: it's about a firefighter, and he suffers from anxiety. I'm very happy I reluctantly agreed to accept the book, read, and review it. Y'all, it is so well-written...I couldn't put it down, and I almost read the entire book in one sitting.
According to Goodreads:
He helped save people every day—but he had no idea how to save himself.
Jason Sautel had it all. Confident in his abilities and trusted by his fellow firefighters, he was making a name for himself on the streets of Oakland, California. His adrenaline-fueled job even helped him forget the pain of his childhood—until the day he looked into the eyes of a jumper on the Bay Bridge and came face to face with a darkness he knew would take him down as well.
In the following months, a series of traumatic emergency calls—some successful, others impossible-to-forget failures—drove Jason deeper into depression. Even as he continued his lifesaving work, he realized he could never rescue everyone, and he had no idea how to save himself.
In the end, Jason was forced to confront the truth: only the relentless power of love could pull him back from his own deadly fall. Action-packed, spiritually honest, and surprisingly romantic, The Rescuer transports readers inside the pulse-pounding world of firefighting and into the heart of a man who needed to be broken before he could finally be made whole.
My Review:
Jason Sautel didn't have the best childhood. His life exemplifies the fact that children are NOT resilient. Jason suffered from anxiety as a child: What he suffered alone his first day of school was so awful that I get angry just thinking about it. He came from a broken home, and his parents seemed to be more interested in fixing the mess of their own lives than shaping and encouraging their children's lives. He dropped out of high school when he was a sophomore, and eventually earned his GED and became a firefighter. Jason is a very sensitive person. He can read people extremely well which helps him in his work. He can recognize darkness and despair in those he tries to save. One of the toughest parts of the book is about a man who jumps from a bridge. What Jason sees in the man's eyes frightens him because he recognizes it in himself.
Jason's anxiety only worsens as an adult, and his career choice amplifies it. Suicidal, a friend's impromptu invitation to breakfast one morning literally saves his life. He describes the anxiety and despair living inside him as a dark hole, an entity. The darkness literally destroys anything positive, so he lives with very low expectations. He yearns to have a normal life, with a relationship and someone to love, but [he] "just new he couldn't have what [he] wanted because the darkness would eat it."
When he meets the love of his life, Kristie, he sees the light in her. He is attracted to this light, and she is proof that when one allows Christ's light to shine from within, it can change lives. Kristie and Jason fall in love quickly, and her one caveat for their dating: Jason must attend church with her. Kristie's shining light leads him to Christ. Jason remembers the moment he accepts Christ, shortly after a fire that could've easily taken his life.
Portions of this book are tough because Oakland, California is a tough city, and some of the fires and rescue attempts are heartbreaking. However, I found many of the duties firefighters are expected to perform at a fire fascinating because I had never heard of these duties before. I must also mention that I love how D.R. Jacobsen writes. He is a fantastic storyteller, and I almost forgot that I was reading a memoir. I highly recommend this book to everyone, and I must say that I'm quite proud of myself for stepping out of my comfort zone and reading this wonderful book.
Below is an IndieBound Affiliate Link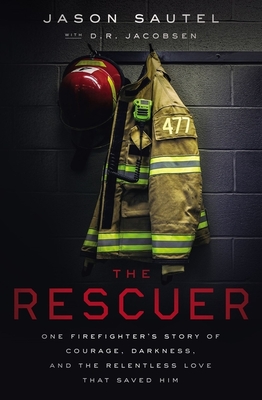 Disclosure: I received a hardback copy of The Rescuer from the publisher via TLC Book Tours in exchange for a fair and honest review. Thank you!
Can you believe that it's Labor Day Weekend? I hope you have a wonderful weekend, Lovelies!
Until next time...
Happy reading!
Ricki Jill