Happy Wednesday, My Lovelies!
I'm almost finished with Christmas prep except for baking. How are your Christmas plans coming along? Do you have any last minute Christmas shopping left to do? If so, I have a wonderful suggestion for the book lover in your life:
Stay
by Catherine Ryan Hyde.
According to Goodreads:
An unforgettable novel about the power of friendship and kindness by the New York Times bestselling author of Pay It Forward.
In the summer of 1969, fourteen-year-old Lucas Painter carries a huge weight on his shoulders. His brother is fighting in Vietnam. His embattled parents are locked in a never-ending war. And his best friend, Connor, is struggling with his own family issues. To find relief from the chaos, Lucas takes long, meandering walks, and one day he veers into the woods.
There he discovers an isolated cabin and two huge dogs. Frightened, he runs. And the dogs run with him. Lucas finds unusual peace in running with the dogs, and eventually he meets their owner, Zoe Dinsmore. Closed off and haunted by a tragic past, Zoe has given up. She doesn't want to be saved. She wants out. But Lucas doesn't want her to go, and he sees an opportunity to bring more than one friend back into the light. It's either the best or worst idea he's ever had, but Lucas isn't giving up on Zoe or Connor.
Their unexpected connection might be the saving grace that Zoe thought she'd lost, that Connor needs, and that Lucas has been running toward.
My Review
This is the best book I've read this year, Lovelies.
Let me tell you why I love it so much. Set in 1969, the story is told from fourteen-year-old Lucas's point of view which is appropriate as this is a coming of age story. He and his best friend Connor come from two dysfunctional families, and Lucas's brother Roy, a Vietnam veteran, further complicates family dynamics. Another main character is recluse and 55-year-old Zoe whom Lucas meets (eventually) after a long ramble in the woods. On that first day, Lucas sees a log cabin with a massive doghouse beside it. Lucas knows it must contain a massive dog, and he thinks: "Please let the dog be inside the cabin." But to Lucas's surprise, there are TWO massive dogs rather than one, and they chase Lucas for a long time...until he trips. Lucas thinks he is done for, but the dogs are having fun. They enjoy running with Lucas, and this is how Lucas meets Zoe because he loves running with her dogs.
Y'all know how much I love dogs, and this is definitely a sweet story involving a boy and dogs. Connor always wanted a dog, yet his mother wouldn't allow it. That is a blessing in disguise because his interactions with Zoe's dogs begin a friendship that facilitates healing for all four main characters. This story is much more than a coming of age story about a boy and dogs, though. It is about healing and friendship, helping friends through difficult times. Lucas tries to encourage both Zoe and Connor. When he's worried about Zoe, he has Connor to talk to about her, yet he doesn't believe he has anyone to discuss his concerns about Connor with. It's also about dysfunctional family dynamics, guilt (there's a whole lot of guilt in the book, especially in Zoe's heart), suicide, the importance of human connections, and the redeeming love of friendships.
I must salute Catherine Ryan Hyde because she does such a wonderful job portraying the struggles of all four characters through Lucas's eyes. Also, I was so thrilled that Hyde includes the best-written epilogue during the present-day, to catch-up with what has happened to these beloved characters.
Stay
is one of those poignantly sweet novels that does not succumb to sentimentality. The characters will "stay" with me forever. It would also make a fantastic book club selection, and there are a few wonderful discussion questions included in the back of the book. If you purchase just one book for your home library published this year, it should be
Stay
.
Disclosure:
I received a lovely hardcover first edition of Stay from the publisher via
TLC Book Tours
in exchange for a fair and honest review.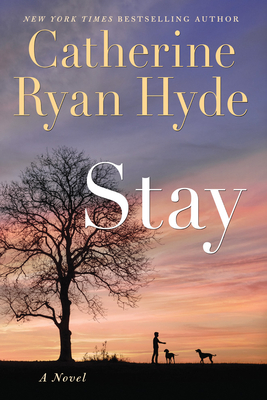 Above is an IndieBound affiliate link
Until next time...
Happy reading!
Ricki Jill