Happy Fourth Sunday of Advent, Y'all!
It has been pouring rain all weekend here in Central Alabama, but we aren't letting the rain damper our Christmas celebrations! Church was lovely today, and our Middlers group and Flower Guild got busy after the 11:15 service "greening" the church. I can't wait to see their efforts Christmas Eve!
Today I want to share the perfect last minute gift for the person who loves all things Chritsmas:
The True Saint Nicholas: Why He Matters to Christmas
by William J. Bennett.
According to Goodreads:
If you've ever been asked, "Who is Saint Nicholas?"...If you've ever wondered if he is just a commercial invention...If you've ever thought there is no such person...You may be surprised to know the true Saint Nicholas. You'll never again think of Santa Claus in quite the same way. An instant classic by one of America's most respected thinkers,
The True Saint Nicholas
is a book to be shared with family and friends every year to evoke the true spirit of Christmas.
My Review:
I know that Jesus is truly the "Reason for the Season." Yet Santa Claus has become a Christmas icon whether we like it or not. He's based on a real saint: The Bishop of Myra who served during the 4th Century. This lovely book is divided into three sections: 1. Life of Nicholas 2. Legends of Nicholas 3. Legacy of Nicholas. St. Nicholas' life was fascinating to read about. He was a strong leader, and he knew how to lead his people and bring them together due to his inner strength and insight. His story is sure to inspire the true meaning of Christmas to readers of all ages, and I think it would make a very thoughtful gift for everyone on your last minute gift-buying list.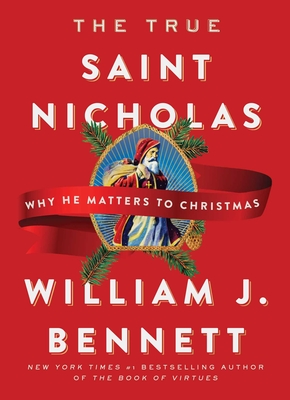 Above is an IndieBound affiliate link
For God so loved the world that he gave his one and only Son, that whoever believes in him shall not perish but have eternal life. For God did not send his Son into the world to condemn the world, but to save the world through him. Whoever believes in him is not condemned, but whoever does not believe stands condemned already because they have not believed in the name of God's one and only Son. This is the verdict: Light has come into the world, but people loved darkness instead of light because their deeds were evil.
~John 3:16-19
Until next time...
Christmas Blessings!
Ricki Jill