Happy Literary Friday, My Lovelies! We're enjoying Fall Break with our daughters at the beach this week, but before I return home I wanted to share with you a wonderful debut novel: The Mermaid and Mrs. Hancock by Imogen Hermes Gowar. This is not quite a beach read because the language in it should be savored and enjoyed slowly.
According to Goodreads:
One September evening in 1785, the merchant Jonah Hancock hears urgent knocking on his front door. One of his captains is waiting eagerly on the step. He has sold Jonah's ship for what appears to be a mermaid.
As gossip spreads through the docks, coffee shops, parlours and brothels, everyone wants to see Mr Hancock's marvel. Its arrival spins him out of his ordinary existence and through the doors of high society. At an opulent party, he makes the acquaintance of Angelica Neal, the most desirable woman he has ever laid eyes on… and a courtesan of great accomplishment. This chance meeting will steer both their lives onto a dangerous new course, a journey on which they will learn that priceless things come at the greatest cost…
What will be the cost of their ambitions? And will they be able to escape the destructive power mermaids are said to possess?
In this spell-binding story of curiosity and obsession, Imogen Hermes Gowar has created an unforgettable jewel of a novel, filled to the brim with intelligence, heart and wit.
My Review:
I fell for all the hype surrounding this debut novel, and I put it on hold at the library primarily because I was intrigued by the story's premise. Eighteenth Century England (the end of the Restoration Period and the middle of the Georgian Period) has always fascinated me, and I read quite a bit of Restoration literature in college, especially Restoration comedies. I knew I would love reading a novel set at this time, and with a main character who's a fashionable courtesan, well, I couldn't resist.
Gowar is a fantastic writer: I love discovering new talents who are true wordsmiths. Her language and sentence structure mesmerized me like the mythical sirens mesmerized ancient sailors. I could tell that she loves history and values studying historical objects that reveal much about the people who curated them, especially fashion. I also appreciate how the story of Mr. Hancock and Angelica unfolds throughout the narrative. Both characters want the same thing in life (primarily security), yet at first both appear to be completely mismatched. All the characters in the book are so well-drawn except the mermaid: not the freak-show curiosity at the beginning of the story, but the "real-deal."
The mermaid subplot is a little murky like the North Sea from whence she came, but that's part of the charm and mystery of the story. I enjoy novels with elements of magical realism, and I think that Gowar leaves enough to the imagination for us to make this story our own. There are so many questions this novel poses, like: Can human beings ever be satisfied, or is there always something more? What, exactly, makes us feel safe or secure in this world? Why do humans search for reflections of ourselves as we explore our universe? Plus, there are a plethora of questions about what it means to be a woman and to wield power over men, especially during this time in history.
I've read a few reviews where the readers are unsatisfied with the ending, but I thought it was spot-on. It does remind me a little of The Miniaturist because there are some unanswered questions, but the questions at the end of The Mermaid and Mrs. Hancock don't leave me disappointed. I highly recommend this novel for book clubs because there's so much to discuss about history, morality, feminism, social class, and magic. I will definitely be purchasing this book for our home library, and I'd like the pretty deckled edge edition.
Below is an IndieBound affiliate link for The Mermaid and Mrs. Hancock.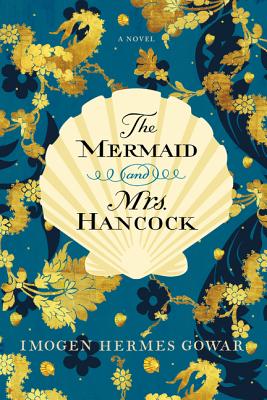 What have you been reading this week?
I'll be back to posting next week after our trip!
Until next time...
Happy reading!
Ricki Jill