Happy Wednesday, My Lovelies! Today I'm reading We Own the Sky by Luke Allnutt, and I have a special surprise for you. Below is an excerpt from the book for you to read! Thanks to TLC Book Tours for including me in this Book Excerpt Tour.
According to Goodreads:
"We looked down at the cliff jutting into the sea, a rubber boat full of kids going under the arch, and then you started running and jumping through the grass, dodging the rabbit holes, shouting at the top of your voice, so I started chasing you, trying to catch you, and we were laughing so hard as we ran and ran, kicking up rainbow showers in the leaves."
Rob Coates feels like he's won the lottery of life. There is Anna, his incredible wife, their London town house and, most precious of all, Jack, their son, who makes every day an extraordinary adventure. But when a devastating illness befalls his family, Rob's world begins to unravel. Suddenly finding himself alone, Rob seeks solace in photographing the skyscrapers and clifftops he and his son Jack used to visit. And just when it seems that all hope is lost, Rob embarks on the most unforgettable of journeys to find his way back to life, and forgiveness.
We Own the Sky is a tender, heartrending, but ultimately life-affirming novel that will resonate deeply with anyone who has suffered loss or experienced great love. With stunning eloquence and acumen, Luke Allnutt has penned a soaring debut and a true testament to the power of love, showing how even the most thoroughly broken heart can learn to beat again.
Book Excerpt:
That evening at Anna's parents', I huddled under a blanket in my room reading an old
James Herriot novel. Even though we were now married—an impromptu wedding on a beach in
Bali—we were still given separate bedrooms. The room was sparse: a bed, a bedside table and a Bible. There was no Wi-Fi or phone signal, just a single shelf full of old, beige hardbacks, their titles worn away. Our sleeping arrangement was punishment, Anna thought, for our unplanned and unannounced wedding, a union that hadn't been blessed by the church. That was the difference between them. My father couldn't have been happier, thrilled by the surprise, telling us it was our wedding, we could do whatever we liked. Anna's parents just smoldered. I heard a soft knock at the door, and Anna came into the room, wearing her coat. "I can't take this anymore," she said. "We need to find a pub."
We said we were just going for a quick evening stroll, but instead marched the two miles into the nearest town. The breeze on our faces had never felt so sweet. So intent on finding signs of life, we barely spoke as we speed-walked along the dark country road.
The little seaside town of Southwold was dead. Only the lighthouse seemed alive, incongruous and towering over the town, its beam of light dueling with the moon. All we could hear were our footsteps and the soft sound of the sea.
"Everything's going to be closed, isn't it?" I said.
"We've got to keep looking, we must," Anna said, as we turned into yet another dark,
cobbled street.
Just as we were thinking about giving up, or trying to get a taxi to the next town, we
turned the corner and light spilled out onto the street. A hotel that doubled as a pub. As we opened the door, it was like easing ourselves into a steaming hot bath. We stood in the doorway and took it all in: the warm glow and chatter of the bar, the flicker and ping of the slot machines. In the corner, there was a loud group of locals wearing Christmas sweaters and Santa hats.
"What do you want?" I asked Anna at the bar, having to shout above the noise.
"A pint of something, and I think I'll have a double of something."
"A what?"
"A double. I'd like a double. A double measure of spirits."
I started laughing. Anna didn't drink a huge amount, and I had never seen her drink
spirits.
"Er, okay. I'm just having a beer."
"Very well," Anna said, sounding a little like her father. She was looking at the optics
above the bar.
"Gin. I think I'll have a gin."
"Okay," I said, trying to catch the bartender's attention. "A beer and a gin."
She nudged me.
"But Rob, it has to be a double. Two of them in one glass."
"Yep, I got it, sweetheart," I said, smiling.
We sat at the bar, on two stools facing each other. Anna drank her gin down in one and
winced a little, her cheeks flushing red. She let out a sigh of relief.
"I'm sorry," she said, chasing the gin with her beer. "About them I mean. I realize it's not
easy."
"It's fine," I said. Anna shook her head.
"It's not fine actually. They're so strange, the older they get. And the thing is, this is actually them being nice."
"Really?" I said, nearly spitting out my lager.
"Really," she said. "They just don't like it here. In England, I mean. They're unhappy and it shows." She took a long sip of her drink. "I much prefer it with your dad. It's a horrible thing
to say, but I wish we could go there every year."
I knew now why Anna was so keen to spend Christmas in Romford, at our little row house, which Dad decorated with reindeer lights and a giant blow-up Santa in the front yard. I had been nervous the first time I had taken Anna back home for Christmas. Since Mom died, Dad didn't really want to celebrate. One year we ordered Chinese; another we ate our Christmas lunch in the pub.
But with Anna coming, Dad said he would do the full works, just how Mom used to do it. He got Little Steve's wife to show him how to do the turkey and roast potatoes. He got the artificial tree down from the attic and bought some crackers from Tesco. And for the first time in his life, he bought a brown sliced loaf of bread instead of his usual white.
From the first moment he met her, Dad said Anna was family. I always thought he might joke—got yourself a high-class lady, son—but he never did. That first Christmas, they spent most of their time chatting in the living room. He loved hearing about Anna's time in Africa and her stories from boarding school. And she loved his tales of the taxi stand and watching football at West Ham.
When the drinks were flowing later in the afternoon, Dad got out the photo albums and
we all scrunched up on the saggy, worn-out couch.
"And that's your mom, Rob?" Anna said, pointing to a photo of her in a sun hat on
Brighton beach.
"Yep. When was that, Dad?" I said.
"Oh, I don't know, son. That's when you were about seven or eight I reckon…" Dad said,
his voice cracking a little.
"She's beautiful," Anna said suddenly, and we all stared at the photo of her again.
"Yeah, she is…" Dad's choice of tense was deliberate because he had never accepted that
she was gone. "Look," he said, turning the pages. "There's a nice one here. That's us at
Christmas. Your mom just had her hair done."
"She looks absolutely lovely," Anna said. "Goodness and look at you," she said, pointing
to awkward pubescent me. "You're so skinny."
"He always was. Don't know where he gets it from. Certainly not from me," Dad said,
laughing loudly.
Intrigued?
Save it on Goodreads...
Or, you can purchase it via the IndieBound affiliate link below: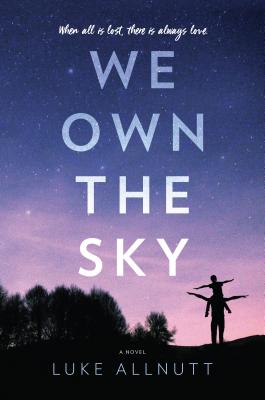 Until next time...
Happy reading!
Ricki Jill
NOTE: My excerpt is the thirteenth one. You can click on the links below and search for the other excerpts and read even more!
Excerpt tour for
WE

OWN

THE

SKY

: