Happy Wednesday, My Lovelies!
Today I've been reading
The DIY Home Planner
by KariAnne Wood. I'm sure y'all know KariAnne: She blogs @
Thistlewood Farms
.
You might remember
a few weeks ago
when I started playing with this planner. It's so helpful, and I love how it's organized to help the reader plan a complete room from empty box to fluffing with accessories.
The DIY Home Planner was released yesterday, so you can purchase a copy wherever fine books are sold. Kirklands is even carrying this handy book!
I've been using the planner to help me redecorate Shanley Belle's bedroom. As y'all know she's in Baton Rouge at LSU working on her doctorate, and her room is rarely used these days. I want to convert her room to a pseudo-library, yet keep the bedroom option for when we have guests and when Shanley Belle comes home for holidays and visits. The room needs to do double duty!
Unfortunately it's my least favorite room in the house because it's dark and awkward. It's a dormer bedroom, and the ceiling is 8' at its highest and slopes downward toward the front wall that has the dormer. Let's look at the floor plan I constructed in the space planning section of the DIY Planner:
You can see the dormer which contains the only window in the room. To make matters worse, the room is on the north side of the house.
The bed looks like this:
This design is much more minimalistic. Everything in the room will be white (well almost everything) which I like because did I mention how flippin' DARK this room is?
Here's another page from the book with the possible paint selections:
There are fun surprises in the book, even how to make an origami bookmark! I love the front and back inside covers with the pockets for holding swatches and other papers: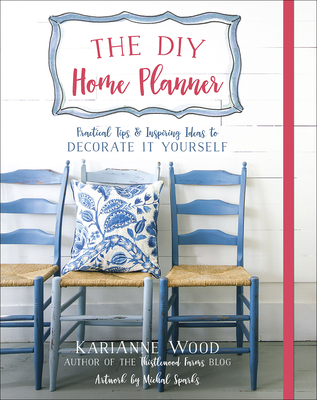 Until next time...
Happy reading!
Ricki Jill