Happy Wednesday, My Lovelies!
Today I'd like to share with you a book I recently read:
The Story of Our Lives
by Helen Warner.
According to Goodreads:
Four friends. Twenty years. One powerful secret. Everyone remembers where they were on 31st August 1997, the day Princess Diana died. Sophie, Emily, Amy and Melissa certainly do -– a beautiful cottage in Southwold, at the start of an annual tradition to have a weekend away together.
Every year since, the four best friends have come back together. But over time the changes in their lives have led them down very different paths. And it's when those paths collide that the secrets they've been keeping come tumbling out.
One Day meets Big Little Lies in this unputdownable read about four friends, one long-buried secret and the histories we all share.
My review:
This book reminds me of
Sex and the City
because it's about four close friends who met when they were young and maintain a close bond as the years pass, but instead of meeting every week for brunch, these women go away together for long weekends to hang out and catch-up with each other's lives.
Helen Warner did a wonderful job crafting each character in the novel. I feel like I know all the friends except Emily, but she's very private about her love life and doesn't share like the other three. I enjoyed reading about their weekends, and I think it's so important for women to maintain long-term friendships. The support each gives to the others is phenomenal. Most of their conversation centers around the men in their lives or lack thereof, and there are some serious themes in the book like postpartum depression, spousal abuse, alcoholism, and drug abuse. But the women support each other through thick and thin and won't hesitate to stage an intervention when needed.
Each section of the novel is centered around their annual retreat and begins with a real news event from that year (like the disappearance of four-year-old Madeline McCann in 2007 and the Queen's Golden Jubilee in 2002). Much of the story is told in flashback to explain what had happened since their last weekend getaway. If you enjoy chick lit about friendship, romance, and a very big secret, then you should enjoy
The Story of Our Lives.
This is a very quick read, and it would be perfect for your weekend getaway or staycation by the fire.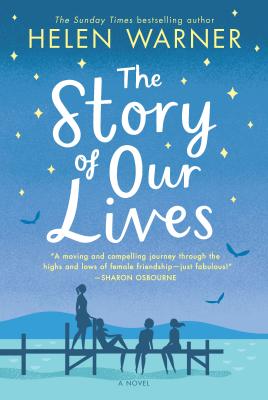 The book cover above is an affiliate link to Indie Bound for purchasing this book at an indie bookstore near you.
Disclosure: I received an ARC of The Story of Our Lives from the publisher via TLC Book Tours in exchange for a fair and honest review.
Until next time...
Happy reading!
Ricki Jill