Happy Tuesday, My Lovelies! I hope y'all had a blessed and meaningful Memorial Day.
Today I'm sharing a fun memoir written by Ellen Nichols: Remember Whose Little Girl You Are. Ellen grew up primarily in L.A., that's "Lower Alabama." She was in high school and college at the height of the Civil Rights movement, and she was a very spirited child and young women.
Description for Remember Whose Little Girl You Are:
"I was born in 1944, the second of four daughters. Our father was a Methodist preacher and our mother was a preacher's daughter. My three sisters were each the epitome of what a preacher's daughter ought to be: modest, caring, chaste, full of good deeds, discerning, and cautious. It fell to me to uphold the popular image of a daughter of the parsonage: wild, willful, religiously disrespectful, incautious, and a trampler of tradition. And oh, I fell to this role with relish and abandon."
Born the daughter of a preacher but afforded none of the grace or modesty, Ellen Nichols recounts her memories of growing up in the Deep South with relentless honesty and biting wit. Moving around Alabama from parsonage to parsonage, her family and the church are the two things that remain constant through her life. Her father was never the average image of a southern Methodist preacher either, often preaching the importance of equal rights alongside gospel.
With every move, Ellen tells the stories of her new hometown and the people she meets there, from her childhood playmates to family friends to the many beaus (of varying quality) that she dated through high school. While the picture Ellen paints of the South during the fifties and sixties is transportive, it is not always idyllic. The narrative of the Civil Rights movement is woven intrinsically throughout the chapters of the book, with racial tensions always looming in the background. Whether it is the local Dairy Queen where Ellen would order her food from the "Blacks only" window or the protest she attended against her college's rules, her account allows for a look into a past that isn't always acknowledged in today's world. There is a sometimes-jarring shock between Ellen's humorous takes on the environment she grew up in and the grave seriousness of our nation's sordid history. At times, Ellen's memoir comes off as more of a tell-all, with her unabashed detailing of her life in the Deep South- both on a personal and broader level.
My Review:
This memoir is a very short read, only about 112 pages. I couldn't put it down and finished it in one sitting! It covers Ellen's early childhood until she leaves for Canada for graduate school. Ellen is a real corker: Her childhood shenanigans are fun to read! She has a penchant for being attracted to the most obnoxious kids in her various schools, and many of them became nefarious and extremely dangerous adults. Honestly, several of them could have been freaks in Flannery O'Connor's fiction.
Supportive of the Civil Rights movement, Ellen defies her Huntingdon College administration and attends Civil Right's marches. When she and her fellow students are caught, she defends their actions by explaining that one day, Huntingdon will accept students of color, and it will be up to the white students to be welcoming. Although she doesn't lose her status as an honors student, she is shunned by other students and not given other honors she earned.
Ellen shares her dating life for a big portion of the book, and the many of the young men go on to become highly successful in various fields. The one I am the most fascinated about is musician and songwriter Steve Young. He wrote one of my favorite songs Seven Bridges Road which was recorded by The Eagles. The story about the song and its connection to Ellen is super cool.
Although most of the chapters are short vignettes and are either about the small towns her family moved to or her many beaux, each one gives you a distinct sense of place and a personal witness to the racial tension and impending changes in the South. I truly love Ellen's voice: she's funny, intelligent, and self-deprecating. I would love to read about her fifty years in Canada. If anything, I know that her life north of the border has given her an interesting perspective on her early history. If you enjoy memoirs, you must read Remember Whose Little Girl You Are.
How cool is this?
I was sent these socks to match the ones on the cover of the book. Y'all know how much I love socks!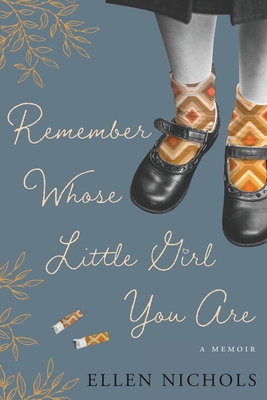 IndieBound affiliate link
Support your local independent bookshop!
Disclosure: I was given a paperback copy of Remember Whose Little Girl You Are (and socks!) via TLC Book Tours in exchange for a fair and honest review. Thanks for allowing me to be a part of the tour!
Until next time...
Happy reading!
Ricki Jill