Grant's Vermont Jammin' Grilled Cheese
Happy Literary Friday, My Lovelies!
If you're here to read my review for The Thursday Murder Club by Richard Osman, I want to apologize, but it's all Jeanie's fault, LOL! She told me that the second in the series is out entitled The Man Who Died Twice. I'm reading it over the weekend, and I'll review both books next Friday. This is a fantastic series, and I think most folks, even those who aren't crazy about mysteries, will love it!
Today I'm reviewing the first in a new cozy mystery series: Up To No Gouda by Linda Reilly. I loved it! The mystery itself was well written and surprising, and I loved several of the well-drawn and unique characters.
According to Goodreads:
The first in a delicious new culinary cozy series featuring a grilled cheese eatery owner who must solve murders in her small town before she is put under lock and brie.
Back in Balsam Dell to heal after the death of her husband, Carly Hale is finally pursuing her lifelong dream—opening Carly's Grilled Cheese Eatery. After only five months, business is booming as Vermont vacationers and townspeople alike flock to lunch on her Party Havartis and other grilled cheese concoctions. All but Lyle Bagley, Carly's one-time high school boyfriend and now town bully who just bought the building that houses her eatery and wants Carly out. After a muenster of a fight, Carly's forced to put her nose to the rind and find a solution to keep her business afloat.
That is...until Lyle is discovered dead behind the dumpster of Carly's shop, and one of her employees becomes the prime suspect. In order to save her eatery and prove her friend's innocence, Carly must sleuth out the killer before she's the one who gets grilled.
With a delightful cast of characters, an inventive amateur sleuth, and a whole host of cheesy hijinks, Up to No Gouda is the perfect cozy murder mystery to melt into.
My Review:
The book blurb is a bit cheesy, LOL....I just couldn't resist. ;P
I've seen this book all over Bookstagram, and the cute cover caught my attention: I'm a sucker for cozy mysteries that feature adorable animals. This one has a Morkie stray (a Morkie is half Maltese and half Yorkshire terrier) named Havarti; how adorable is that? Once I knew what the book was about, I thought it sounded interesting, plus the fact that it's the first in the Grilled Cheese Mystery series was all the encouragement I needed to order this book from my local indie bookshop.
First of all, I love the setting and the assembly of characters in Balsam Dell, Vermont. Carly is very brave moving back to her hometown after the tragic death of her husband. Moving home again is never easy, and then she decides to invest in the town by opening-up a restaurant that features grilled cheese sandwiches. Carly has always considered them the ultimate comfort food, but hers are gourmet, and the combinations described in the book all sound like heaven. Once the big bad bully is murdered behind her restaurant, she decides to team-up with a local reporter to solve the mystery and save her friend and employee who's the main suspect in the case. She truly puts herself out there and confronts some scary characters during the course of her investigation.
The mystery is very cleverly written, and I was shocked at the conclusion. I love it when cozies have a few surprising twists. Another thing I liked about the book is that Carly is reunited with her childhood best friend Gina. They had been estranged because Gina had dated, married, and divorced Lyle (the murder victim) even though Carly had advised Gina against it. I hope that we see more of their friendship in future books because I enjoy reading stories about strong women and their friendships.
This cozy has several recipes for grilled cheese sandwiches that were mentioned in the story. One of the characters named Grant, a high school musical prodigy and one of Carly's employees, created the masterpiece sandwich you see in the photo above. It's entitled Grant's Vermont Jammin', and it is the best grilled cheese sandwich ever! My version is almost identical to the one in the book, but I used Publix Breakfast Bread. I really liked Linda's tips about how to make the sandwiches.
Grant's Vermont Jammin' Grilled Cheese Recipe
Ingredients:
Unsalted Butter, softened
2 slices Publix Breakfast Bread
Soft Brie Cheese, rind removed
1-2 T Fig Jam (I used the Dalmatia brand)
Spinach Leaves (optional)
Directions:
1. Butter one side of each slice of bread. (This is one of the best tips: place the butter on the outside of the bread rather than melting it on the skillet.)
2. On the unbuttered side of one slice, spread the soft brie.
3. On the unbuttered side of the remaining slice, spread a layer of the fig jam depending on your taste.
4. If desired, top the jam with a few spinach leaves. (If you like spinach, don't skip this step. Next time I will add even more spinach!)
5. Top with the remaining bread slice, butter side up.
6. Grill in a cast-iron pan over medium heat for about 3 minutes. As you grill, press lightly with spatula and flip and cook for another 3 minutes. The outside should be golden and the cheese thoroughly melted.
7. Slice in half and enjoy!
Linda suggests you serve it with pear slices. That would be so good, but I didn't have any pears. I forgot!
Cook's Note:
Publix is a (mostly) Southern grocery store chain, and
Publix Breakfast Bread
has raisins, walnuts, dried apples, dried apricots, and dried cranberries. It's delicious! If you don't have a Publix near you, the Internet is full of copycat recipes for the bread.
Do you think you'll make this grilled cheese sandwich? We will try another recipe next weekend.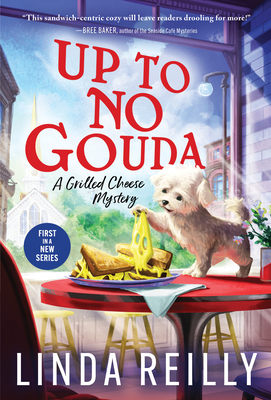 IndieBound affiliate link
I've enjoyed many of your book recommendations, especially for cozy mysteries. You'll read about a few of your recommendations in the weeks to come.
What are you reading this weekend?
Until next time...
Happy reading!
Ricki Jill