Happy Literary Friday, My Lovelies! Today I'm reviewing an inspiring memoir: How to Stitch an American Dream by Jenny Doan. For those of you who are quilters, you've probably heard of Jenny, her company the Missouri Star Quilt Company, and her YouTube quilting tutorials.
Here's a little bit about the book:
Faith, family, hard work, and second chances are at the core of every great American story, and Jenny Doan's story is just that.
In her new memoir, How to Stitch an American Dream, readers will discover the behind-the-scenes success story of the Missouri Star Quilt Company and Jenny's remarkable journey to overcome hardship, claim the abundance of family, and ignite the power of giving—all while revitalizing a small town along the way.
Over the last decade, the Doan family business, the Missouri Star Quilt Company in tiny Hamilton, Missouri, has grown from Jenny's corner shop–with one quilting machine and two bolts of fabric for sale in the back–to become the largest supplier of pre-cut quilting fabric in the headquarters of Jenny's world-famous YouTube tutorial videos.
Jenny is now giving her fans, the business world, and moms of all ages (and grandmas too!) what they've been asking for: the full story of her journey, from her humble beginnings as a homeschooling mom, to founding MSQC in her fifties, through the remarkable success and inspiration she's so well-known for today. In this book, you'll learn:
How she and her beloved husband, Ron, raised seven children on a shoestring budget— and had fun doing it;

How, after a string of bad luck, the family made a prayer-based decision to leave California behind and start over again in rural Missouri, even though they had no place to live, no jobs lined up, and no idea how they were going to make it;

How Jenny, Ron and their children worked side-by-side to patch together a family home out of a crumbling shell of a farmhouse;

And how their faith, hard work, and generosity not only carried them through the hard times, but led directly to the success of the Missouri Star Quilt Company.
How to Stitch an American Dream will make you laugh, cry, say "bless your heart."
This book covers a lot of detail about Jenny's life and the circumstances leading to the founding of the Missouri Star Quilt Company. Her family's story begins in the Salinas area in California, but when one of their sons required surgery to remove a tumor, the family was practically bankrupt. The couple made a decision to relocate to an area of the country where the cost of living would be less, and felt that God was leading them to Missouri.
Jenny must be one of the most positive people because her memoir certainly reads that way. She always maintained her faith even during the most dire circumstances: I can't imagine not being able to afford milk at the grocery store, for example, or literally making almost everything from broccoli for days on end because that's what she had on hand. Jenny homeschooled all seven of her children, and they excelled academically, testing way above grade level upon their move to Missouri. As a homeschool mom myself, I smiled while reading about her enthusiasm in teaching her children.
Once Jenny was an empty nester, she was looking for something productive to do with her time. An older friend recommended she take a quilting class, and Jenny didn't want to do it because she thought (erroneously) that only old people quilt. Eventually she was persuaded to learn how to quilt, and one of her entrepreneur sons encouraged her to turn her hobby into a small business via YouTube videos.
You don't have to be a quilter to be mesmerized by Jenny's story; I know nothing about how to make a quilt. But if you want to read an inspiring story that will make you so happy that a kind person like Jenny built a successful business that's brought so much joy to others, then you will enjoy this book.
Here is an excerpt I wanted to share with y'all:
Let's say you give a quilt to somebody who has been diagnosed with cancer. They are going to feel love. They'll feel all the hope. They'll feel everything you wanted them to feel. But what they're not going to know is that chemotherapy is cold. And when they go in for treatment, they are going to be wrapped in that warmth, and they didn't even know they needed that. It's a gift that gives them much more than they ever expected.

~ How to Stitch an American Dream, page 199
How true! When I got my diagnosis, this is the quilt that was given to me by an anonymous quilter:
One side has a heart pattern.
This quilt has been a comfort to me. There are so many patterns and so much to see! Several of the fabric scraps make me giggle.
Below is an IndieBound affiliate link: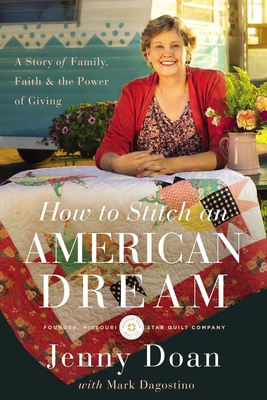 Disclosure: I'd like to thank TLC Book Tours for inviting me to be a part of this tour in exchange for a fair and honest review.
Do you enjoy memoirs?
I usually do: I like to learn about people who've led interesting lives.
Happy reading!
Ricki Jill