Happy Tuesday, and Happy February, My Lovelies! Today I'm reviewing a book entitled Midnight in Everwood by M.A. Kuzniar. If you've followed my blog for a minute, you probably remember how much I LOVE fairytales. This one might be my favorite.
According to Goodreads:
A spell-binding retelling of The Nutcracker, filled with enchanted toys, decadent balls, fierce feminine friendships and a forbidden romance. For fans of The Toymakers, Caraval and The Bear and the Nightingale.
There's nothing Marietta Stelle loves more than ballet, but after Christmas, her dreams will be over as she is obligated to take her place in Edwardian society. While she is chafing against such suffocating traditions, a mysterious man purchases the neighboring townhouse. Dr Drosselmeier is a charming but calculating figure who wins over the rest of the Stelle family with his enchanting toys and wondrous mechanisms.
When Drosselmeier constructs an elaborate set for Marietta's final ballet performance, she discovers it carries a magic all of its own. On the stroke of midnight on Christmas Eve, she is transported to a snowy forest, where she encounters danger at every turn: ice giants, shadow goblins and the shrieking mist all lurk amidst the firs and frozen waterfalls and ice cliffs. After being rescued by the butterscotch-eyed captain of the king's guard, she is escorted to the frozen sugar palace. At once, Marietta is enchanted by this glittering world of glamorous gowns, gingerbread houses, miniature reindeer and the most delicious confectionary.
But all is not as it seems and Marietta is soon trapped in the sumptuous palace by the sadistic King Gelum, who claims her as his own. She is confined to a gilded prison with his other pets; Dellara, whose words are as sharp as her teeth, and Pirlipata, a princess from another land. Marietta must forge an alliance with the two women to carve a way free from this sugar-coated but treacherous world and back home to follow her dreams. Yet in a hedonistic world brimming with rebellion and a forbidden romance that risks everything, such a path will never be easy.
My Review:
This is one of the best fairytale retellings I've ever read. Midnight in Everwood is a cerebral feast for the senses. I love the setting: Nottingham, England during the Edwardian era. It's 1906, and the suffragists are working hard, yet it will be another dozen or so years before women can vote. The book's heroine is Marietta, and she wants to pursue a career in classical ballet: She has worked most of her life to perfect her art, and she doesn't want to give-up her dreams to please her parents and uphold societal standards.
Marietta's new neighbor, an enigmatic inventor named Drosselmeier, pursues and stalks her before asking for her hand in marriage. Late Christmas Eve, a restless Marietta decides to practice her ballet role as Aurora on the set in her family's ballroom Drosselmeier has built for her. He interrupts her rehearsal and begins threatening her. She seeks refuge in the grandfather clock built into the set, and it transports her to another world called Everwood. The village and castle are enchanted, and most things are made out of confections like marzipan and gingerbread. I like how M.A. Kuzniar doesn't waste a lot of time on world building: Instead, we see the village through Marietta's eyes, first enchanting and magical and then menacing and abominable. King Gellum is a despot who possesses then destroys. It's bad enough staying alive in her castle prison, and to make things worse, every so often she fleetingly glances silver hair and piercing blue eyes, reminiscent of Drosselmeier. Is he observing her here in this world?
The bright spot of this book is the friendship between Marietta, Dellara, and Princess Pirlipata. They form an alliance and are determined to find a means to escape their castle prison. I enjoy reading about strong women who lift each other up, especially when under duress. Their teamwork is admirable!
There are numerous allusions to literature, ballet, and art throughout the novel. I love it when Degas' art is referenced...for example, his Blue Dancers or his Ballet, dit aussi L'Etoile:
Ballet, dit aussi L'Etoile, v. 1876
Paris, Musee d'Orsay
The abonné dressed in black, lurking in the shadows, is a visual representation of how the villain
Drosselmeier stalks Marietta.
If you love fairytales, stories with strong female characters, beautiful language, and visual descriptions that will literally make you sigh, then you will love Midnight in Everwood.
Disclosure: I'd like to thank Harper Collins 360 for sending me an ARC of Midnight in Everwood in exchange for a fair and honest review.
Below is an IndieBound affiliate link.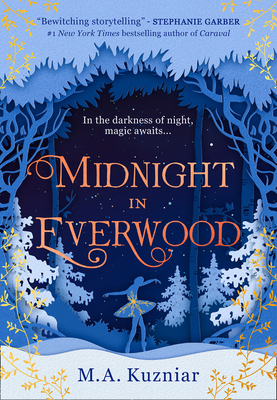 Until next time...
Happy reading!
Ricki Jill