Happy Literary Friday, My Lovelies!
Today I'm excited to share with you Practically Divine by Becca Stevens. I introduced to y'all this book in a book spotlight post in early December. Some of this post is a repeat of the spotlight post, but I've included my review at the end.
I love businesses with a heart, and quite frankly, I think "voting with one's pocketbook" is a smart way to support organizations and causes important to oneself.
Thistle Farms touches my heart, and I'm grateful to have been gifted a hardcover of this beautiful book from the publisher via TLC Book Tours. I'm sharing a spotlight post before the holidays so you can consider it for gifting.
First I want to tell you a little bit about the author:
Becca Stevens is an author, speaker, priest, social entrepreneur, founder and president of Thistle Farms. After experiencing the death of her father and subsequent child abuse when she was 5, Becca longed to open a sanctuary for survivors offering a loving community. In 1997, five women who had experienced trafficking, violence, and addiction were welcomed home.
Twenty years later, the organization continues to welcome women with free residence hat provide housing, medical care, therapy and education for two years. Residents and graduates earn income through one of four social enterprises. The Global Market of Thistle Farms helps employ more than 1,800 women worldwide, and the national network has more than 40 sister communities.
Becca has been featured in the New York Times, on ABC World News and PR, was recently named a 2016 CNN Hero and a White House "Champion of Change." She was featured in the PBS documentary, A Path Appears, named Humanitarian of the Year by the Small Business Council of America and inducted into the Tennessee Women's Hall of Fame. Stevens attended the University of the South and Vanderbilt Divinity School. She has been conferred 2 honorary doctorates.
NOTE:
Because Thistle Farms is located in Tennessee, I've purchased several of their products locally. I have enjoyed all their products, and I'm a repeat customer. They're fantastic, and I swear by their
Essential Oil Bug Spray
. I know that winter is the season for it, but I wanted to share how it is the very best bug spray I've ever tried, and we keep it stocked at the lake. Everyone in my family loves this product!
There is no secret formula to experiencing the sacred in our lives--it just takes practice and practicality.
No matter where we are—on a walk in the woods, in a sacred building, or in a dusty refugee camp—signs of love abound. When we allow ourselves to embrace both ordinary and extraordinary experiences, we can feel the divine anywhere.
You're invited to search this path with Becca Stevens, as she explores what it means to be practically divine. Woven throughout the narrative strands are poetry and rants, as well as ruminations on her mother's wit and wisdom—and the passion she instilled in Becca for creating something from nothing.
Embracing the practically divine compels us to do something, anything, to share in the feast of love together. When we start from wherever we are, we can recognize the potential for humor, wonder, and freedom.
Experience is nine-tenths of love.
Standing in a geranium field, smelling dark soil fertilized by rabbit poop is different from reading about the healing properties of geraniums. Walking beside a woman in a refugee camp as she covers her baby's face from the dry, red dust is different than imagining how hard it is for moms in camps.
Our senses transform information into holy compassion. When we open our hearts to it, we can experience the divine anywhere - like sacred breadcrumbs marking our path. This path is filled with humor, humility, and honesty.
We can all learn to live a life that's practically divine by:
Redefining old lies and stories, to learn from the past
Appreciating the gifts that come from imperfections or trauma
Using creativity to spark new revolutions
Accepting the chaos of the unknown before us with courage
Sharing in a feast of love, knowing there's enough mercy and forgiveness
My Review:
I enjoyed Practically Divine because Becca Stevens, a social justice warrior, writes about heartbreaking topics with both wit and wisdom. She quotes her mother's sayings throughout the book, and although some of them are either mixed metaphors or original ones, they resonate. Becca is literally a saint on earth: She has done so much for trafficked women by providing them with safe havens and crafting skills for income. The book also includes a few poems (yes, she's also a poet), and a few rants. I can understand why she would rant based on the injustice and atrocities she's witnessed firsthand. One rant I'd like to add is one I'm guilty of: Children are not resilient. (This is my rant, not hers.)
The second half of the book is interesting as she explains how we are "bound to grace," and she gives practical tips to "embrace grace and live freely." These tips include:
trust your passions
trust work more than inspiration
form rituals
lead with love
follow up
I can't imagine the capacity for love Becca Stevens has. I would love to be her friend. She beautifully explains the concept of 1 Corinthians 13:13, and how the greatest of these, love, endures. However our link to God is through Jesus Christ, and it is based on justice, not love. My only disappointment is that Becca never mentions Jesus, not once, in this book. She mentions God, the Holy Spirit, communion, the Gospel, but never Jesus. As a fellow Episcopalian, I don't understand why we don't talk about Jesus all the time. I understand that a person's basic needs should be met before witnessing, but leaving Jesus out of this fantastic book is my only criticism.
If you are interested in social justice (especially women's issues), faith, and reading about someone who has gifted thousands of women with her love and grace, then you should enjoy Practically Divine.
Below is an IndieBound affiliate link.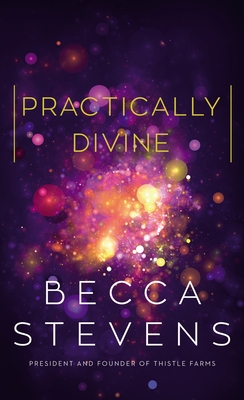 Disclosure:
I received a copy of
Practically Divine
from the publisher via
TLC Book Tours
in exchange for a fair and honest review.
Until next time...
Happy reading!
Ricki Jill