Hello, My Lovelies! Autumn is finally here, and it's time to get cozy: build a fire, make some hot cocoa, and read! For the next three days I'll share a new book each day; all three are very different, so I'm certain at least one should appeal to you.
The first book, Ravens in the Rain, has a film noir vibe, and it's perfect for the Halloween season because I personally don't like horror. As a film major, I enjoyed learning about the stylized film noir movies, especially those produced during the 1940s and 50s. At the bottom of the post there's an excerpt for you to read.
According to Goodreads:
Ravens In The Rain centers around Pru and Carney, she's a woman with a past, and he's a man with no future. Down on luck and down on love, they meet over a game of chance at an off-strip Vegas casino, and Carney wonders if Pru's sparkle is what he needs to lift him from his darkness. He doesn't even mind that she swiped a hundred-dollar bill from an old cowboy. It excites him.
While Pru, disillusioned by her sparkle, is now accustomed to the cynical disposition of vagabond life. She's not looking for a one-night stand; she's looking for survival and sizing Carney up as a comfortable solution, for the moment. When she finds out who he really is, she'll ante up for the game of her life.
This romantic noir is a turbulent flight; like dating in the 21st century, it's dangerous and daring.
About the Authors:
Married over 10-years, Christie & Jeff Santo, lucky in love, never would've met if Christie didn't miss her airplane. Luckier still, when a motorcycle accident almost took their lives, it became the driving force toward their writing career together.
Coming from the independent film industry, Jeff has over 25-years of filmmaking experience, directing and writing, with memberships in both the WGA and DGA. Christie has her Bachelor of Arts degree in creative writing from California State University Long Beach. And this is their debut novel together.
Full Disclosure: I opened the email from the authors because they're Chicago Cubs fans. Jeff is Cubs Hall of Famer Ron Santo's son. #GoCubsGo
You can read more about Ron Santo's inspiring story HERE.
Book Trailer


Provided by Ravens In The Rain BUY HERE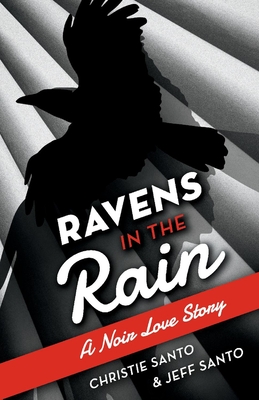 IndieBound Affiliate Link
Book Excerpt:
"Been a while since I played this game," he confesses.
Looking down at his stacks, she notices the plethora of black and blue chips he has in addition to his red and white, and figures him for a craps man, a man who plays the field.
"What's your game then?" she asks.
"Don't have one," he remarks while eyeing her like she could be his game.
Their stares are like silent threats, daring the other to engage in this foreplay, and neither one admitting to their undeniable connection.
"Dealer busts," they hear the dealer say.
"So you do have game," she says, referring to his winning hand.
He slides her a ten-dollar chip from his winnings. He figures she's more than earned it.
"What a gentleman," she purrs. "Thank you."
He looks down at his new hand, a king queen, like he's been rewarded. "I guess being a gentleman still pays."
"We'll see," she says suspiciously, in case he's speaking about more than the game. She looks down at her two and four of hearts, not surprised. She's been dealt low cards for more than a few years now, so she knows how to dig in for a fight—that's what she does.
He watches, narrowing in on her with his eyes like long lenses, seeing her emotion telling details—that's what he does. He's captivated with her every expression, her perfect skin, the slightest of facial movements. Capturing the image of a film star from decades-long gone, and
he wonders her story. She hits for her next card and the next. Her expressions, going from hope to despair and back to hope, as if despair never appeared, because she's almost there, her four low cards add up to eleven.
"If I were lucky, I'd get a face card," she says, testing fate, but in her head, she's betting against herself—at least then she'll be right—so she calls forth her destiny, and it's a four. Only there's no celebrating because it means she'll lose. How could she not? She has five small cards in front of her. There's no question the next card is a face card, the story of her life, doom lurking around every corner.
He's thrilled to watch her strategize, observing the mental pinball going on behind her intense eyes. He's never been much into games but watching her play this out is like witnessing a good pitcher on the mound. He's rooting for her.
She wants to motion stay and keep herself in the game but staying on sixteen isn't how she plays. She's compelled to play out the hand for the sake of the table, at least. If she doesn't hit, she'll affect the deck's entire rotation, changing the outcome of their next few hands, who knows what else, and she knows why staying idle is a bad idea. So she hits, and he watches with anticipation. Another four, so that makes twenty! She can't believe it. He's quick to motion stay to the dealer, and the dealer turns and flips so fast he can hardly keep up with the
math. It's not until the dealer calls out, "Dealer bust," and pays out that he realizes she won. They won. He looks to her to celebrate, but from her only slightly curled smile,
he sees she's more relieved than celebratory.
"You really worked for that one," he commends her.
"It should have gone the other way. The odds were against me," she says with torment, her head slightly down.
***end of excerpt***
I hope I've piqued your interest in Ravens in the Rain!
Do you have an Autumn Reading List? I know that Summer Reading Lists are a thing, but what about autumn?
Until next time...
Happy reading!
Ricki Jill