Happy Literary Friday, My Lovelies! Today I'm sharing with you two very different books: Jane in Love by Rachel Givney and Flowers of Darkness by Tatiana de Rosnay. Since I'm reviewing two books, I'll be brief.
My favorite bookseller at my favorite bookshop recommended Jane in Love.
According to Goodreads:
If Jane Austen had the choice between the heart and the pen, what do you think she would do?
At age twenty-eight, Jane Austen should be seeking a suitable husband, but all she wants to do is write. She is forced to take extreme measures in her quest to find true love - which lands her in the most extraordinary of circumstances.
Magically, she finds herself in modern-day England, where horseless steel carriages line the streets and people wear very little clothing. She forms a new best friend in fading film star Sofia Wentworth, and a genuine love interest in Sofia's brother Fred, who has the audacity to be handsome, clever and kind-hearted.
She is also delighted to discover that she is now a famous writer, a published author of six novels and beloved around the globe. But as Jane's romance with Fred blossoms, her presence in the literary world starts to waver. She must find a way to stop herself disappearing from history before it's too late.
A modern-day reimagining of the life of one of the world's most celebrated writers, this wonderfully witty romantic comedy offers a new side to Jane's story, which sees her having to choose between true love in the present and her career as a writer in the past.
My review:
The characters in this book are so well-drawn, however Jane's is probably the least developed of them all. One reason: she thinks she's gone insane when she literally appears out of thin air on a movie set in front of a hyperventilating Sofia Wentworth. Sofia is an aging actress who's seen much success at the box office playing sexy ingenues including Bat Girl. Now she's on the wrong side of 35, and she's been cast in a supporting role in an adaptation of one of Austen's books (Mrs. Allen, Northanger Abbey). Not only is she not the star, but her soon to be ex-husband is the director. I absolutely loved the arc of Sofia's growth in this novel.
Once Jane acclimates herself to the 21st Century, she becomes much closer to Sofia's handsome brother Fred. Fred is a teacher, and he also writes, but he lacks confidence in his work and doesn't complete his projects. Jane sees definite potential in him, but as she becomes more invested in his work and romance and less invested in returning home to the 19th Century, her books begin to disappear one by one in bookshops and libraries: They literally turn to dust and disappear.
Of course we all know how this one is going to end (thank goodness), and although there isn't a romantic happily ever after, the ending does contain an abundance of happiness and hope. This one is a fantastic beach/lake read. I enjoyed the humor quite a bit! Also, if you're familiar with Austen's books, you'll probably recognize a character's name.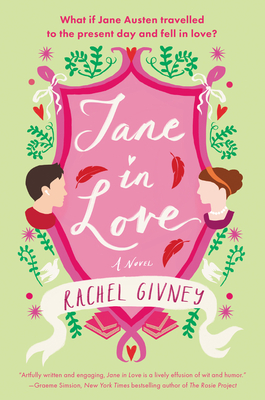 IndieBound affiliate link
I've read two of Tatiana de Rosnay's books, one I liked (The House I Loved) and one I really hated (A Paris Affair). I've never read Sarah's Key, but I have several friends who love that book.
According to Goodreads:
From the internationally bestselling author of Sarah's Key comes Tatiana de Rosnay's Flowers of Darkness, a riveting and emotionally intense novel, set in a near future Paris, where a woman confronts past betrayal and present mystery
Author Clarissa Katsef is struggling to write her next book. She's just snagged a brand new artist residency in an ultra-modern apartment, with a view of all of Paris, a dream for any novelist in search of tranquility. But since moving in, she has had the feeling of being watched. Is there reason to be paranoid? Or is her distraction and discomfort the result of her husband's recent shocking betrayal? Or is that her beloved Paris lies altered outside her windows? A city that will never be quite the same, a city with a scar at its center?
Stuck inside, in the midst of a sweltering heat wave, Clarissa enlists her beloved granddaughter in her investigation of the mysterious, high tech building even as she finds herself drawn back into the orbit of her first husband who is still the one who knows her most intimately, who shares the past grief that she has never quite let go.
Staying true to her favorite themes—the imprint of the place, the weight of secrets—de Rosnay weaves an intrigue of thrilling suspense and emotional power.
My Review:
I decided to give Tatiana de Rosnay another chance because she is a good writer, plus I was in the mood for a suspense novel. I just wish I'd read Sarah's Key instead of this one because it's so claustrophobic and depressing. Maybe de Rosnay has been negatively affected by the lockdowns in Paris because there's definitely a nod to "the great reset, terrorist attacks, climate change, big tech privacy intrusion, and being lockdowned." Clarissa has chosen to give up her rights, especially her right to privacy, for high tech security.
I was interested in reading this book because the story's main character takes her pen name Clarissa from the title character of Virginia Woolf's Mrs. Dalloway. Each chapter begins with excerpts from Virginia Woolf's suicide note as well as French writer Romain Gary's suicide note (he was married to controversial American actress Jean Seberg). These quotes are more delightful than the story itself.
I liked the book for the most part, though, until I found out why Clarissa has left her husband and moved into the creepy modern apartment. It's so bad that I cannot recommend this book to anyone. Plus this dystopian tale rings a bit too true and more "now" than the near-future.
From where de Rosnay got the title of the book
Fun fact: Mrs. Dalloway is one of my favorite novels
Until next time...
Happy reading!
Ricki Jill