Happy Literary Friday, My Lovelies! Today I'm sharing with you my book club's selection for June:
Our book club reads "New and Literary" selections, and I adored Early Morning Riser by Katherine Heiny.
According to Goodreads:
Jane falls in love with Duncan easily. He is charming, good-natured, and handsome but unfortunately, he has also slept with nearly every woman in Boyne City, Michigan. Jane sees Duncan's old girlfriends everywhere–at restaurants, at the grocery store, even three towns away.

While Jane may be able to come to terms with dating the world's most prolific seducer of women, she wishes she did not have to share him quite so widely. His ex-wife, Aggie, a woman with shiny hair and pale milkmaid skin, still has Duncan mow her lawn. His coworker, Jimmy, comes and goes from Duncan's apartment at the most inopportune times. Sometimes Jane wonders if a relationship can even work with three people in it–never mind four. Five if you count Aggie's eccentric husband, Gary. Not to mention all the other residents of Boyne City, who freely share with Jane their opinions of her choices.

But any notion Jane had of love and marriage changes with one terrible car crash. Soon Jane's life is permanently intertwined with Duncan's, Aggie's, and Jimmy's, and Jane knows she will never have Duncan to herself. But could it be possible that a deeper kind of happiness is right in front of Jane's eyes? A novel that is alternately bittersweet and laugh-out-loud funny, Katherine Heiny's Early Morning Riser is her most astonishingly wonderful work to date.

My Review
This book is very charming and extraordinary in how it completely drew me into the lives of very ordinary people. Jane is, well, a plain Jane, especially compared to her "Brawny Paper Towel" boyfriend, Duncan. She loves him and I supposed accepts him in spite of his boisterous dating history. Duncan might be a bit of a slacker in his carpentry business, but that is to be expected, I suppose, because his social calendar supersedes his work. He also has an odd, seemingly symbiotic relationship with his almost-perfect, totally put-together ex-wife Aggie.
The book's plot takes a couple of unexpected turns, and suddenly Duncan and Jimmy, Duncan's intellectually disabled shop assistant, are part of Jane's life as are Aggie and her husband, Gary. This story is about family and those we choose to be a part of ours. It's also about boundaries because there is a definite lack of boundaries by seemingly all of the inhabitants of Boyne City, Michigan. There are several outstanding characters in this story, and Jane's best friend Freida is one of them. She's the local music teacher, and she always has her mandolin with her: She's always prepared to play and sing. Some of the funniest moments in the book are when Freida's musical choices prove to be completely inappropriate.
One of the only complaints from the book club members was the lack of excitement in the plot. I agree that it is about a second grade teacher and her family and friends in a small Midwestern town, but the elevation of normal people and their simple lives into something literary and beautiful is quite the feat. The language often made me sigh out loud, and because of her mad literary skills, I will read Katherine Heiny again.
They were just in time. The sky was striped with every flavor of sherbet--raspberry, orange, peach, lemon--and every stripe was reflected in the lake. The sun peeked over the horizon slowly, slowly, growing to a shimmering gold oval that trembled for a moment, heavy, gravid--like a giant egg yolk that would fall forward and fry itself on the silver pan of Lake Charlevoix. And then it rose higher, a perfect yellow circle.

~ Early Morning Riser, page 119
If the quote above doesn't inspire you to catch the next sunrise, then there's something terribly wrong with you! ;P If you want to read a literary selection that is uplifting and joyful, I highly recommend Early Morning Riser.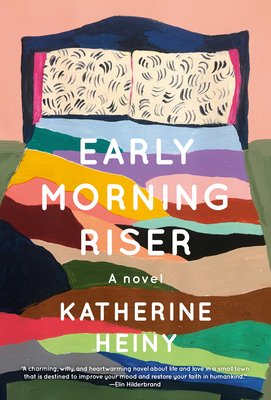 IndieBound Affiliate Link
Have you read anything lately I should add to my Summer Reading List?
I hope my American friends have a very safe and happy

Independence Day

. I'll be back on Monday with a home decor post!
Until next time...
Happy reading!
Ricki Jill