Happy Monday Morning, Lovelies! Today I'm reviewing a Christian living/spiritual growth book written by Hallie Lord, cohost of the Beatbox Gospel podcast. Falling Home shares many of Hallie's struggles and how she built supportive relationships for life's unexpected hurdles.
According to Goodreads:
Beloved speaker and radio host Hallie Lord shows how to use unexpected hardships and challenges to build a life that will make you more secure and grounded than ever before.
Hallie Lord understands the upheaval life can bring. From her parents' divorce when she was a preteen to moving eleven times in fifteen years with her family, the radical changes she faced relentlessly pushed her toward fear and helplessness. Yet by digging into her faith and through much self-reflection, she realized that even though those challenges had left her a bit battered and bruised, they had also equipped her for any difficulty that may arise.
In Falling Home, she describes the four interconnected foundations that now give her strength and security during life's upheavals:
committed, supportive friendships,
healthy family relationships,
an intimate love affair with God, and
a compassionate sense of self.
Inviting readers into her hard-fought journey, Lord shows them how they, too, can embrace whatever life brings their way. With lyrical prose and a tender, inviting voice, she shares how hurts and sacrifices are also the groundwork for creating a beautiful life that can catch them whenever they fall.
My Review:
Falling Home is a must-read for anyone who has had anxiety due to life's unexpected upheavals. Hallie Lord's voice truly resonated with me: She is not shy about sharing her anxiety, lessons learned in therapy, and spiritual growth as God becomes a bigger influence in her life. The chapters and stories shared in them are organized according to theme rather than told chronologically, and I liked it. Hallie's life has been an adventure: she's a busy public speaker, co-host of a popular podcast, and she's the mother to eight children. As an extrovert, God has certainly called her to use her gifts outside her comfort zone, and I can't imagine it's easy to recharge quietly with so many children. She has also moved eleven times in fifteen years, and that's hard for a person who longs for familial roots.
Hallie's engaging vignettes exemplify that many of our struggles with anxiety and unhappiness come down to just one mindset: expectations. One of my favorite chapters in the book is entitled "Sundaes on Sunday." In it, she discusses her grandmother's quiet yet influential faith, and Hallie's need for rootedness, or a sense of belonging even while living so far away from family. Sometimes our expectations and our "desires of our heart" can be distorted because we don't truly know ourselves. However, God knows us, and He is not limited with our "narrow vision:"
"...God isn't limited by our lack of creativity or our stubbornness. He can walk right into our desires and fulfill them in a million different wonderful and perfectly unique ways." pg. 57
Although Hallie is at a different life stage than I (she's in her late thirties), I learned a lot from her story and her testimony about her faith. She is steadfast knowing that God holds her hand during seasons of suffering, and she is also secure knowing that her journey is taking her to a heavenly home. And that's really the point: as busy and tumultuous as this earthly life gets, we must remain focused on the only expectation that matters: Jesus's preparation of our heavenly home.
"Delight yourself also in the Lord,
And He shall give you the desires of your heart.
Commit your way to the Lord,
Trust also in Him,
And He shall bring it to pass."
Psalm 37:4-5
Thanks to
TLC Book Tours,
I received an ARC of
Falling Home
from the publisher in exchange for a fair and honest review.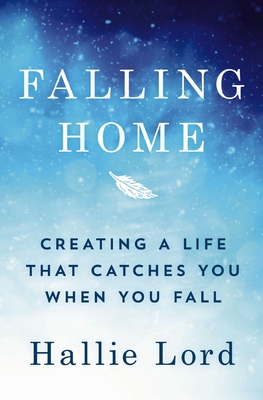 This is an IndieBound affiliate link
Until next time...
Blessings!
Ricki Jill