Happy Literary Friday, Lovelies!
Have you seen the beautiful January/February issue of
Victoria Magazine
yet? It is one of the best issues I've read in a very long time. It's the Entrepreneur Issue, and there are also lovely articles about Valentine's Day, "An Ode to Romance," and in Cooking and Entertaining there is a delightful article about "Gathering the Book Club." The best news, though: Jan Karon has been named the
2021 Writer in Residence
. She's the author of the popular
Mitford Series
, and if y'all have been paying attention, then you know that I started reading the series from the beginning during 2020. This series, with its inspirational themes, has been a comfort to me during these unprecedented times. I had read a couple of the books years ago, but it has been fun to read them in order.
Jan Karon has been the Writer in Residence in the past; so happy to see her back in this role!
Today I'm reviewing the tenth installment, Home to Holly Springs. I have four more left to read, and I'm hoping I will have read them all by spring. I checked the book out from my local library.
According to Goodreads:
Readers of the nine bestselling Mitford novels have been captivated by Jan Karon's gift for illuminating the struggles that creep into everyday lives along with a vividly imagined world (People). They learned quickly that after you've spent time in Mitford, you'll want to come back (Chicago Tribune). Millions eagerly awaited the publication of each novel, relishing the story of the bookish and bighearted Episcopal priest and the extraordinary fullness of his seemingly ordinary life.
Now, Jan Karon enchants us with the story of the newly retired priest's spur-of-the-moment adventure. For the first time in decades, Father Tim returns to his birthplace, Holly Springs, Mississippi, in response to a mysterious, unsigned note saying simply: Come home. Little does he know how much these two words will change his life. A story of long-buried secrets, forgiveness, and the wonder of discovering new people, places, and depth of feeling, Home to Holly Springs will enthrall new readers and longtime fans alike.
My Review:
I can't really share many plot points in this well-written novel because it would involve too many spoilers. However, I can say that it was fun visiting Holly Springs and the places where Father Tim spent his childhood. He returned to Holly Springs because he received a mysterious, unsigned letter saying simply, "Come home." Tim drives his Mustang convertible with his huge dog Barnabas from Mitford, North Carolina to his hometown in Mississippi. The narrative alternates between the contemporary plot and Father Tim's memories from childhood. I enjoyed reading about Timothy as a boy and young man: I really feel like I know his character even better now. I've always enjoyed books about family dynamics and secrets, and this one has them in spades. If you've never read the Mitford Series, I highly recommend it. I have enjoyed every single one of them so far, which is unusual for me because it seems like book series authors usually run out of storyline after a few books. A major plus is that Father Tim and many of the other characters are inspiring: scripture and biblical truths are always integral elements in the stories.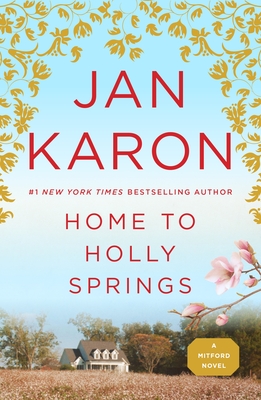 Above is an IndieBound affiliate link
Have a great weekend, Lovelies. What are you currently reading?
Until next time...
Happy reading!
Ricki Jill