Happy Tuesday, My Lovelies! It's less than three weeks until Christmas. Are you looking for a last minute, super-easy homemade hostess or Christmas gift?
No worries...I have you covered!
This gift idea is from Scandi Christmas by Christiane Bellstedt Myers. It is my *very favorite* Christmas craft book.
People enjoy burning candles and sitting fireside this time of the year, so they appreciate this craft. Last year it was a very popular hostess gift.
First I'll show you how to make the matchbook cover.
You will need:
A box of matches
craft paper (Christiane used Christmas fabric in the book)
Christmas ribbon
Pencil
Scissors
Glue (I used Elmer's)
Instructions:
Measure the area of the matchbox excluding the striking area. Mark area on underside of craft paper. Cut out and glue onto the matchbox.
Next, measure and cut the ribbon. Glue on top of paper on the edge of the box to make a pretty border.
And now....on to the wrapped candles.
You will need:
Two dinner candles (I *love* Root candles, and used them for this project.)
Brown butcher paper
Christmas wrapping paper or craft paper
Jingle bells
Twine
Scissors
Instructions:
Cut the butcher paper so it shows one inch on the top and bottom of the candle (about 8" long or so).
Do the same thing with the craft paper, but cut it about two inches shorter than the butcher paper.
Wrap the candles first with the butcher paper individually, then wrap them both with the craft paper, and then wrap twine around the candles several times to secure. Then tie twine with a ribbon and add the jingle bells.
I changed my mind and went with the predominantly red wrapping paper at the last minute.
Wrapping:
I like to wrap the candles and matchbox in a cellophane cookie bag like this:
The matchbox is in the back.
I know that we aren't going to Christmas parties like last year, but these still make thoughtful gifts for friends: It will brighten-up their home and make it more cheerful for Christmas.
Come back tomorrow because I'm sharing a few of my favorite Etsy shops!
Below is an IndieBound affiliate link for purchasing Scandi Christmas.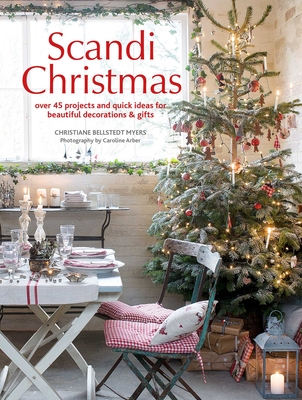 Until next time...
Blessings!
Ricki Jill