Happy National Coffee Day, My Lovelies! Today I will be sharing with you a World War II historical fiction set in Kiev, Ukraine. I haven't read many books at all set in the Soviet Bloc during this time period: most of the WWII novels I've read have been set in either Great Britain or France.
About Sisters of War
• Paperback:

384 pages
• Publisher:

HQ Digital (September 22, 2020)
*The USA Today bestseller!*
Can their bond survive under the shadow of occupation?
For fans of The Tattooist of Auschwitz and The German Midwife comes this unforgettable tale of love, loss, family, and the power of hope.
Kiev, 1941:
Watching the Red Army withdraw from Ukraine in the face of Hitler's relentless advance, sisters Natasha and Lisa Smirnova realize their lives are about to change forever. As the German army occupies their beloved city, the sisters are tested in ways they never thought possible. Lisa's fiancé Alexei is taken by the invading army, whilst Natasha falls in love with Mark – a Hungarian soldier, enlisted against all his principles on the side of the Nazis. But as Natasha and Lisa fight to protect the friends and family they hold dear, they must face up to the dark horrors of war and the pain of betrayal. Will they be strong enough to overcome the forces which threaten to tear their family apart?
Why readers love Sisters of War:
'Captivating from the first page'
'Powerful and heart wrenching'
'A touching story, beautifully written'
'Well-researched and fascinating'
Originally published as
The Story of Us
.



About Lana Kortchik
Lana Kortchik grew up in two opposite corners of the Soviet Union – the snow-white Siberian town of Tomsk and the golden-domed Ukrainian capital, Kyiv. At the age of sixteen, she moved to Australia with her mother. Lana and her family live on the Central Coast of NSW, where it never snows and is always summer-warm. Lana studied IT at university and, as a student, wrote poetry in Russian that she hid from everyone. For over a decade after graduating, she worked as a computer programmer. When she returned to university to complete her history degree, her favourite lecturer encouraged her to write fiction. She hasn't looked back, and never goes anywhere without her favourite pen because you never know when the inspiration might strike. Lana's short stories appeared in many magazines and anthologies, and she was the winner of the Historical Novel Society Autumn 2012 Short Fiction competition. Her first novel, Sisters of War, was acquired by HQ Digital, an imprint of Harper Collins UK, in 2018 and later became the USA Today bestseller. Lana also writes psychological thrillers under the pen name of Lana Newton. Find out more about Lana at her
website
, and connect with her on
Facebook
,
Twitter
, and
Instagram
.
My Review:
The sisters Natasha and Lisa are teenagers when the novel begins in 1941, and are around 22 when it the story ends in 1945. I would consider this a "new adult" novel, or maybe even YA (young adult). Not that I minded at all because since I have two daughters, I've read my fair share of YA novels. This one, though, is extremely well-researched, and the history shared in the book is interesting albeit tragic.
I loved Natasha's character: she is so kind, giving, and loyal. The war and occupation of the Nazis brings out the worst in sister Lisa: she becomes bitter and petty. Lisa suffers from a tragedy, and she places the blame on Natasha. Their feud threatens to tear what is left of their family apart, and I feel sympathy for their mother who is also a strong, well-drawn character.
This is a great book to get cozy with because the cold winters in Kiev are primary characters imposing even more hardship on the conquered citizenry. Lana Kortchik does a great job with her descriptions of not only the history and circumstances during the Nazi occupation of Kiev, but also the tidbits of the culture. There is a mixture of cultures represented because the Smirnova family is actually Russian living in Kiev, and another main character is a Hungarian soldier conscripted by the Nazis when the German army first occupy Hungary.
If you enjoy WWII historical fiction, a fast-paced, suspenseful plot, and family intrigue, then you should enjoy Sisters of War. Don't let the fact that many of the characters are teenagers. There are characters from multiple generations in the novel.
Disclosure: I received a paperback copy of Sisters of War from the publisher via TLC Book Tours in exchange for a fair and honest review.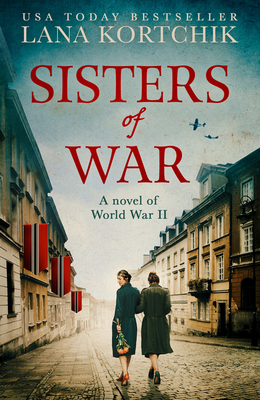 Above is an IndieBound affiliate link for purchasing the book.
Have a super National Coffee Day!
Until next time...
Happy reading!
Ricki Jill