Blind Date With a Book! Very mysterious!
Happy Literary Friday, My Lovelies!
I went on a date with a book! Have y'all ever seen Blind Dates with Books in your local library or bookstore? Basically, you either check-out or purchase a book that is wrapped (so you can't read the jacket or see the cover), but you are given a few clues about what the story is about! This Blind Date With a Book is via
Once Upon a Book Club
.
Let's take a look at my clue. It is on the library card:
This one looks interesting!
The sweet ladies who are Once Upon a Book Club asked participants to perform three acts of kindness before opening. They have huge hearts over there! I personally don't like to "post" or "promote" my acts of kindness, random or not. I like to remain anonymous. Just my preference!
Once the acts of kindness were completed, I opened the book!
Let's take a look...
Hmmmmm.....
According to Goodreads:

Maud Drennan is a dedicated caregiver whose sunny disposition masks a deep sadness. A tragic childhood event left her haunted, in the company of a cast of prattling saints who pop in and out of her life like tourists. Other than visiting her agoraphobic neighbor, Maud keeps to herself, finding solace in her work and in her humble existence–until she meets Mr. Flood.

Cathal Flood is a menace by all accounts. The lone occupant of a Gothic mansion crawling with feral cats, he has been waging war against his son's attempts to put him into an old-age home and sent his last caretaker running for the madhouse. But Maud is this impossible man's last chance: if she can help him get the house in order, he just might be able to stay. So the unlikely pair begins to cooperate, bonding over their shared love of Irish folktales and mutual dislike of Mr. Flood's overbearing son.


Still, shadows are growing in the cluttered corners of the mansion, hinting at buried family secrets, and reminding Maud that she doesn't really know this man at all. When the forgotten case of a missing schoolgirl comes to light, she starts poking around, and a full-steam search for answers begins.


Packed with eccentric charms, twisted comedy, and a whole lot of heart, Mr. Flood's Last Resort is a mesmerizing tale that examines the space between sin and sainthood, reminding us that often the most meaningful forgiveness that we can offer is to ourselves.
My Review:
First of all, the book blurb is slightly misleading. I would've loved more of the main characters' (Mr. Flood and Maud) "shared love of Irish Folklore," but there was only one Irish tale shared in the book, maybe two. Also, I had a difficult time sympathizing with Mr. Flood: He was very abusive (much more than a menace), and he is a hoarder who does not want help for his mental illness. The real mystery in this book is how in the world can Maud both want to help Mr. Flood, yet accuse him of possible crimes simultaneously?
Maud clearly has mental issues, too. She sees and converses with saints, and the book has a handy excerpt from a saints handbook that Maud has "edited" based on her "experiences" with them. Maud's placement in Mr. Flood's creepy Victorian mansion that houses a horde of Victorian curiosities probably is not a great idea. Maud allows a tragedy from her past to temper the present, and she begins an investigation into Mr. Flood's family history: She's convinced a missing schoolgirl has connections to the Flood family. By the way, the Floods are not very delightful people, past and present. Did they also have a daughter, and not just a son? Did Mr. Flood push his wife down a flight of stairs?
The characters are interesting in this book even though many are figments of Maud's imagination. It's a hard book to categorize, too: Is it suspense, mystery, romance (there's a little), family drama, magical realism, or what? It defies being placed into any one category, and Jess Kidd's descriptions are very trying at times. The plot is murky at best because there isn't a lot of concrete plot points except when Maud is actually being pursued by men intent on killing her. The ending is not satisfying because although readers are given a hint about what happens next, I'm uncertain.
In spite of all my complaining, Jess Kidd has an interesting voice, and I do think she has talent. I will probably read more of her books in the future.
Below is an IndieBound affiliate link for purchasing the paperback edition of the book.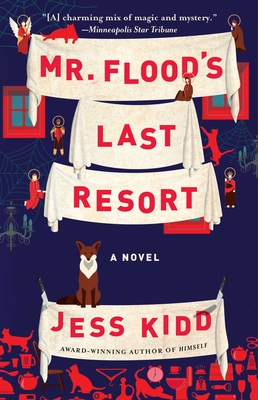 I hope y'all have a blessed weekend! Stay safe!
Until next time...
Happy reading!
Ricki Jill