Happy Literary Friday, My Lovelies!
My first review for 2019 is Beartown by Fredrik Backman. Several of my Instagram Friends have read it and loved it, so when I saw it at my local library, I checked it out. I read it at the perfect time, when we were having flooding rains here in Central Alabama. Beartown's setting is so cold and dismal that it made me feel better about our weather!
I've also read A Man Called Ove written by Backman, and I loved it.
According to Goodreads:
The #1 New York Times bestselling author of A Man Called Ove returns with a dazzling, profound novel about a small town with a big dream—and the price required to make it come true.
People say Beartown is finished. A tiny community nestled deep in the forest, it is slowly losing ground to the ever encroaching trees. But down by the lake stands an old ice rink, built generations ago by the working men who founded this town. And in that ice rink is the reason people in Beartown believe tomorrow will be better than today. Their junior ice hockey team is about to compete in the national semi-finals, and they actually have a shot at winning. All the hopes and dreams of this place now rest on the shoulders of a handful of teenage boys.
Being responsible for the hopes of an entire town is a heavy burden, and the semi-final match is the catalyst for a violent act that will leave a young girl traumatized and a town in turmoil. Accusations are made and, like ripples on a pond, they travel through all of Beartown, leaving no resident unaffected.
Beartown explores the hopes that bring a small community together, the secrets that tear it apart, and the courage it takes for an individual to go against the grain. In this story of a small forest town, Fredrik Backman has found the entire world.
My Review:
Beartown is located far from a major city, and is close to the arctic circle. Although small, it is a microcosm because many different demographics call Beartown home. And don't be fooled thinking that this is a novel about hockey and it wouldn't interest you (I'm from the Deep South and I know next to nothing about the sport). This book is very deep, and has many, relatable themes.
It helps to know a little about the Swedish education model before reading
Beartown
. Students with certain abilities can attend specialized high schools called gymnasiums (an art school would be an example). There are also gymnasiums for sports, too. In
Beartown
, the citizens are hopeful that the junior team will win the national hockey semi-finals and possibly the finals. Then their town would receive a charter to build a hockey school, which would bring in families, which would bring in commerce and save the town.
I enjoyed the deep themes of this book: mob mentality, feminism, ethics, racism, and class divisions. But the most compelling theme is that no matter what parents do, they cannot keep their children safe. This is the theme that will wake you up at 2:00 A.M. The story is very good, but at times during the plot Backman is repetitive (we get that Beartown is a hockey town already...quit repeating it). I also enjoyed the characterizations, especially the teenage girls. I found it hard to put down, and although I'm a baseball girl,
Beartown
has piqued my interest in hockey. I suggest you grab a copy, make some hot cocoa, build a fire, and read! It's the perfect book for winter reading.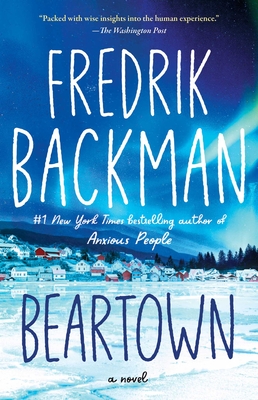 The book above is an affiliate link for IndieBound
Are any of y'all reading Pride and Prejudice this month for book club?
You still have a couple of weeks to read it before we discuss it on January 25th.
I'm enjoying this edition so much!
There are recipes scattered throughout the book.
I also love the quotes!
Please read it with me!!!
Until next time...
Happy reading!
Ricki Jill