Happy Literary Friday, My Lovelies! My reading slump is finally over. Yay for me! I decided to check-out Eleanor Oliphant is Completely Fine at the library because so many of my Instagram friends raved about it. Gail Honeyman is an extremely good writer, and I found the book difficult to put down.
According to Goodreads:
No one's ever told Eleanor that life should be better than fine.
Meet Eleanor Oliphant: She struggles with appropriate social skills and tends to say exactly what she's thinking. Nothing is missing in her carefully timetabled life of avoiding social interactions, where weekends are punctuated by frozen pizza, vodka, and phone chats with Mummy.
But everything changes when Eleanor meets Raymond, the bumbling and deeply unhygienic IT guy from her office. When she and Raymond together save Sammy, an elderly gentleman who has fallen on the sidewalk, the three become the kinds of friends who rescue one another from the lives of isolation they have each been living. And it is Raymond's big heart that will ultimately help Eleanor find the way to repair her own profoundly damaged one.
Soon to be a major motion picture produced by Reese Witherspoon, Eleanor Oliphant Is Completely Fine is the smart, warm, and uplifting story of an out-of-the-ordinary heroine whose deadpan weirdness and unconscious wit make for an irresistible journey as she realizes. . .
The only way to survive is to open your heart.
My Review:
First of all, I need to correct the faulty book blurb above. I hate it when they get it wrong....did this person who wrote it even read the book?
First of all, Eleanor only talks to her mother on Wednesday evenings via a phone call originated by her mother, not the weekends. Raymond and Sammy do not live their lives in isolation. Raymond has roommates and friends he plays computer games with, and he has a doting, loving mother. Sammy has an extended family who loves him very much, and his children and grands are very much involved in his life. Eleanor is the only one living in isolation, so when I read the book and then re-read the blurb, I thought, "What the what?"
Eleanor is a very interesting and endearing character. The reader knows that she's had a harrowing childhood, and she is very, very awkward socially. I thought that she might be spectrum-ish, maybe high functioning Aspergers because she is brilliant, having studied the classics at university and an avid crossword puzzle solver. But there is much more to her than her limited, stringent lifestyle.
It is true that new possibilities open-up for Eleanor when she and Raymond help save Sammy's life. She begins to interact with people outside of work (she and Raymond work for the same Graphic Design Company), and she decides to fall in love with a local musician who doesn't know she exists. This juvenile infatuation leads to a series of events that thankfully mature Eleanor, and none to soon as she's thirty years old.
Although I think the book is well-written and it's arguable a wonderful book, I'm probably not as enamored with the book as several of my friends, and here's why:
Spoiler Alert! Spoilers Below!
Eleanor is an atheist. I don't have much patience with atheists who put their faith and trust in a vodka bottle rather than God. When this was revealed in the book I almost put it down.
Also, there's a plot twist that was completely unexpected, and it made me rethink everything I thought I knew about Eleanor. Her issues were much more involved than I realized; the plot twist had me seconding guessing the Aspergers diagnosis among other things. Eleanor Oliphant is NOT completely fine. The title is a lie! Plus, the book would have benefited from a bit more closure.
End of Spoilers
If you enjoy character-driven novels with interesting, well-drawn and quirky characters, you should like Eleanor Oliphant is Completely Fine.
The book cover below is an affiliate link for purchasing Eleanor Oliphant is Completely Fine via IndieBound.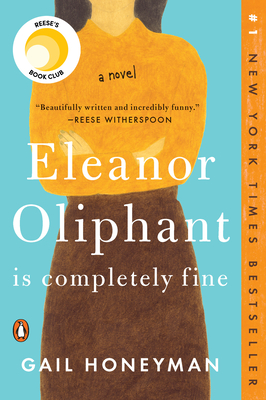 Until next time...
Happy reading!
Ricki Jill