Happy Thursday, My Lovelies!
I can't believe that I've never shared either of these books by Graeme Simsion. Don Tillman is one of my favorite characters, and I recently read both books again.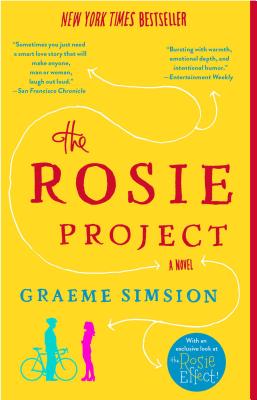 The Rosie Project
According to Goodreads:
An international sensation, this hilarious, feel-good novel is narrated by an oddly charming and socially challenged genetics professor on an unusual quest: to find out if he is capable of true love.
Don Tillman, professor of genetics, has never been on a second date. He is a man who can count all his friends on the fingers of one hand, whose lifelong difficulty with social rituals has convinced him that he is simply not wired for romance. So when an acquaintance informs him that he would make a "wonderful" husband, his first reaction is shock. Yet he must concede to the statistical probability that there is someone for everyone, and he embarks upon The Wife Project. In the orderly, evidence-based manner with which he approaches all things, Don sets out to find the perfect partner. She will be punctual and logical—most definitely not a barmaid, a smoker, a drinker, or a late-arriver.
Yet Rosie Jarman is all these things. She is also beguiling, fiery, intelligent—and on a quest of her own. She is looking for her biological father, a search that a certain DNA expert might be able to help her with. Don's Wife Project takes a back burner to the Father Project and an unlikely relationship blooms, forcing the scientifically minded geneticist to confront the spontaneous whirlwind that is Rosie—and the realization that love is not always what looks good on paper.
The Rosie Project
is a moving and hilarious novel for anyone who has ever tenaciously gone after life or love in the face of overwhelming challenges.
My Review:
Don Tillman is a scientist, and he believes that all things should be accomplished through the scientific method. He lives a very regimented life and has little patience for nonsense and social nuances. Many of his habits do make sense, like his weekly "standardized meal system." When Don decides to take dating into his own hands and pursue the Wife Project, brilliant PhD student Rosie Jarman calls on Don and his mad grasp of DNA to help her find her biological father. This sweet romance has so many hilarious scenes, yet Simsion is very sensitive to Aspergians (I would not have liked the book otherwise). One scene in particular that I loved is when one Don's colleagues asks him to give the keynote speech at a conference for teens with Aspergers and their parents. He gets the teens all riled up, and it's clear that Don is unaware that he has Aspergers.
I love witty dialogue, and this novel is full of it. I belly laughed throughout most of the book, and some scenes had me crying with laughter. Don's ability to make everything in his world more efficient makes for entertaining reading especially compared to Rosie who's one hot mess in all aspects of her life with the exception of academics. Don's abilities far outweigh his social challenges. If you think you'd enjoy an unusual romance, I highly recommend
The Rosie Project
.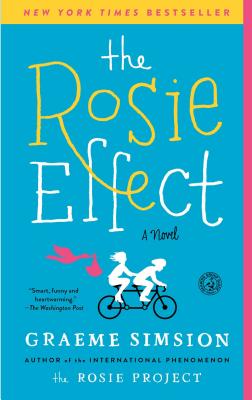 The Rosie Effect
According to Goodreads:
The highly anticipated sequel to the New York Times bestselling novel
The Rosie Project
, starring the same extraordinary couple now living in New York and unexpectedly expecting their first child. Get ready to fall in love all over again.
Don Tillman and Rosie Jarman are back. The Wife Project is complete, and Don and Rosie are happily married and living in New York. But they're about to face a new challenge because - surprise - Rosie is pregnant.
Don sets about learning the protocols of becoming a father, but his unusual research style gets him into trouble with the law. Fortunately his best friend Gene is on hand to offer advice: he's left Claudia and moved in with Don and Rosie.
As Don tries to schedule time for pregnancy research, getting Gene and Claudia to reconcile, servicing the industrial refrigeration unit that occupies half his apartment, helping Dave the Baseball Fan save his business, and staying on the right side of Lydia the social worker, he almost misses the biggest problem of all: he might lose Rosie when she needs him the most.
Graeme Simsion first introduced these unforgettable characters in
The Rosie Project
, which NPR called "sparkling entertainment along the lines of Where'd You Go Bernadette and When Harry Met Sally." The San Francisco Chronicle said, "sometimes you just need a smart love story that will make anyone, man or woman, laugh out loud." If you were swept away by the book that's captivated a million readers worldwide, you will love The Rosie Effect.
My Review:
I was a little anxious to read this book because I did not want Rosie and Don to break-up. Don is facing so many stresses: a big move to New York City; a new job as a researcher at Columbia University; plus Rosie is expecting. In pure Don style, he approaches the pregnancy as a scientific project, and gets arrested when he takes one of Gene's suggestions to "observe young children." Moms and nannies in Central Park do not appreciate Don's video recording of their charges at play.
Don isn't the only one stressed out about becoming a parent. Rosie is burning the candle at both ends as she's simultaneously working on her PhD and her medical degree. She has many issues from childhood that are affecting her current decisions, and she's completely leaving Don out of the parenting loop. Intrepid Don doesn't give up on Rosie nor on fatherhood. In spite of the stress and the secrets he and his friends are keeping from Rosie, he limits himself to only one freak-out. I was so surprised by this sequel, and I think I like it slightly more than
The Rosie Project
. I read that Simsion is working on book three in the Rosie trilogy, and I can't wait to read it!
The book covers above are affiliate links to purchase the books via IndieBound.
Until next time...
Blessings!
Ricki Jill