About
Two Steps Forward
• Paperback:
384 pages
• Publisher:
William Morrow (May 1, 2018)
From the
New York Times
bestselling author of
The Rosie Project
comes a story of taking chances and learning to love again as two people, one mourning her husband and the other recovering from divorce, cross paths on the centuries-old Camino pilgrimage from France to Spain.
"The Chemin will change you. It changes everyone…"
The Chemin, also known as the Camino de Santiago, is a centuries-old pilgrim route that ends in Santiago de Compostela in northwest Spain. Every year, thousands of walkers—some devout, many not—follow the route that wends through quaint small villages and along busy highways alike, a journey unlike any other. Zoe, an artist from California who's still reeling from her husband's sudden death, has impulsively decided to walk the Camino, hoping to find solace and direction.
Martin, an engineer from England, is road-testing a cart of his own design…and recovering from a messy divorce. They begin in the same French town, each uncertain of what the future holds. Zoe has anticipated the physical difficulties of her trek, but she is less prepared for other challenges, as strangers and circumstances force her to confront not just recent loss, but long-held beliefs. For Martin, the pilgrimage is a test of his skills and endurance but also, as he and Zoe grow closer, of his willingness to trust others—and himself—again.
Smart and funny, insightful and romantic,
Two Steps Forward
reveals that the most important journeys we make aren't measured in miles, but in the strength, wisdom, and love found along the way. Fans of
The Rosie Project
will recognize Graeme Simsion's uniquely quirky and charming writing style.
My Review:
As mentioned in the book blurb, Martin (an atheist) is using the Camino as a reason to promote the design of a cart he's marketing to the British military and other interested entities. He's also blogging about his progress and the durability of his cart's designs and was able to get a link to his blog included on one of the more popular Camino websites. As his blog gains followers, it's clear that his readers are much more interested in him and his progress rather than the cart's durability. Zoe has been harboring disdain for the church for years. Her reasons for walking are: to escape facing her college friend Camille she's supposed to be visiting in France; and grief over her husband's recent death. This is my one disappointment in the story: there are very few pilgrims walking for spiritual reasons.
This is a mature love story for the most part, although Martin and Zoe are at constant cross-purposes with each other throughout the entire narrative. They meet interesting characters along the way, and one of my favorites was actually based on a young man that Graham Simsion and his wife Anne Buist met while walking the Camino. He actually suggested they write this book, and they did! I appreciate the details in the book about the landscapes and the villages Martin and Zoe stop in along the way. But the mention of bedbugs, unwashed bodies, blisters, and injuries made me squeamish, not to mention the living conditions in a few of the hostels. This long trek is not for sissies! It's obvious that Graham and Anne paid close attention and took notes for this book. There's a map that shows the various routes for the Camino in the front of the book that is very helpful because not only could I keep-up with Zoe's progress, but also Martin's progress and a few of the minor characters as they take different paths and then meet-up later along the way.
I enjoyed the story, and I recommend it for that, but don't expect anything remotely Christian in it other than a few encounters with nuns, monks, churches, and Christian art. Simsion is a fantastic writer, and
The Rosie Project
is a favorite book. Also, I'm currently reading
The Rosie Effect
, and I was happy to read in this ARC that Simsion is currently working on the third and last Rosie novel.

Purchase Links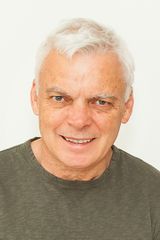 Photo by Rebecca Rocks
About Graeme Simsion
GRAEME SIMSION is the author of the #1 bestseller
The Rosie Project
, which has been optioned for film by Sony Pictures, was a
Globe and Mail
Best Book of the Year and won the Australian Book Industry Association Book of the Year.
The Rosie Effect
was also a #1
Globe and Mail
bestseller, an instant
New York Times
bestseller and a
People
magazine Pick of the Week. Simsion's most recent novel,
The Best of Adam Sharp
, has also been optioned for film. This is his first novel co-written with his wife, Anne Buist. Follow him on Twitter
@GraemeSimsion
.
Disclosure:
I received an ARC of
Two Steps Forward
from the publisher via
TLC Book Tours
in exchange for a fair and honest review.
Below is an affiliate link from IndieBound for purchasing the book.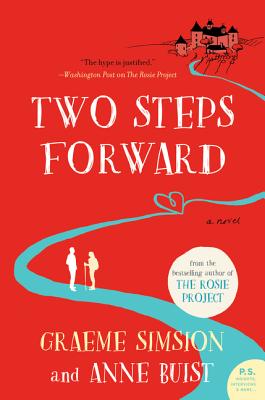 Until next time...
Happy reading!
Ricki Jill