Happy Wednesday, My Lovelies!
Today I want to share with you a book I read recently:
Between Earth and Sky
by Amanda Skenandore. I enjoyed this book so much, and I found the book's premise and history fascinating.
According to Goodreads:
On a quiet Philadelphia morning in 1906, a newspaper headline catapults Alma Mitchell back to her past. A federal agent is dead, and the murder suspect is Alma's childhood friend, Harry Muskrat. Harry—or Asku, as Alma knew him—was the most promising student at the "savage-taming" boarding school run by her father, where Alma was the only white pupil. Created in the wake of the Indian Wars, the Stover School was intended to assimilate the children of neighboring reservations. Instead, it robbed them of everything they'd known—language, customs, even their names—and left a heartbreaking legacy in its wake.
The bright, courageous boy Alma knew could never have murdered anyone. But she barely recognizes the man Asku has become, cold and embittered at being an outcast in the white world and a ghost in his own. Her lawyer husband, Stewart, reluctantly agrees to help defend Asku for Alma's sake. To do so, Alma must revisit the painful secrets she has kept hidden from everyone—especially Stewart.
Told in compelling narratives that alternate between Alma's childhood and her present life, Between Earth and Sky is a haunting and complex story of love and loss, as a quest for justice becomes a journey toward understanding and, ultimately, atonement.
"His jaw tightened and lips flattened. 'It's not so easy. Our worlds are like the sky and earth, Azaadiins. They get very close, but never touch.'"
My Review:
I enjoyed reading this book, especially the half of that narrative that took place in the past during Alma's childhood and young adulthood. Alma is a student at the Native American Stover Boarding School her father runs; she's the only white pupil, and she's meant to be a model student for the savages. The Indian students have their ways of clinging to their culture, and Alma receives an education of her own as she assimilates their language, stories, and rituals. I love Alma's character. She's truly one of the most idealistic and compassionatet characters because she truly believes what her father and other white adults are telling her about the purpose of the school and how the Indians' lives will be better because of their education and acceptance of the white man's culture. The school is deemed a success, and one of its pupils is even accepted to Brown University.
The second half of the narrative illustrates the end result for several of the students from the Stover School as Alma and her lawyer husband Stewart embark on an investigation to prove Harry's innocence. One thing I think the author does extremely well in the book is her characterization of Alma from idealistic young women in the past to melancholy, guarded woman in the present. Plus I must mention that I like Stewart. He drops everything to leave Philadelphia and travel to Wisconsin help one of Alma's childhood friends he's never met; he does it for her because he loves her so much.
Obviously what kept me reading the book is the mystery from Alma's past. It wasn't what I expected at all, and her story is heartbreaking. Although sad, this book does have a satisfying ending, and I highly recommend it. Amanda Skenandore's research for this book is outlined in her author's notes, and I'm impressed to say the least.
"She watched the sun glide toward the horizon until it hung red and brilliant above the trees, its rays--for a fleeting moment--a bridge between earth and sky."
Disclosure:
I received an ARC of
Between Earth and Sky
from the publisher via
TLC Book Tours
in exchange for a fair and honest review.
Below is an affiliate link for purchasing this novel via IndieBound.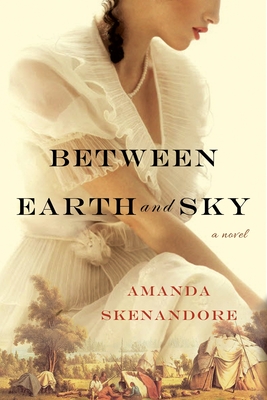 Purchase Links
Until next time...
Happy reading!
Ricki Jill