Happy Wednesday, My Lovelies!

Today I'm reading My Floral Affair by Rachel Ashwell.

I can't seem to put this book down. It's my favorite of her books so far, and I took advantage of the post Valentine's Day flower sales to help me produce this post.
According to Goodreads:
Discover Rachel Ashwell's floral inspirations and the unique touch she brings to interiors in her first book dedicated to flowers, a deeply-held passion come to life.
Flowers and floral decoration are at the core of Rachel Ashwell's world and her designs. From her showcase rose garden in California, she set out with photographer Amy Neunsinger to capture the full-blown romance of the quintessential English country house, the dramatic colorways of northern Europe, and the faded opulence of a Parisian apartment. This is the story of that magical journey, which takes us through a variety of beautiful spaces large and small, some ornate and others simple. Every aspect of floral accents is showcased, from wallpaper to fabrics, floors to ceilings, architectural details, lighting and, of course, flower arrangements, some breathtaking and some simple… but all beautiful in their own right.
My Review:
Like Rachel, I adore flowers. I purchase fresh flowers at least weekly: We budget for flowers monthly. We think they're that important; flowers are welcoming, comforting, and soothing. I love the floral arrangements in
My Floral Affair
: Some are over the top opulent, and some are as simple as a few blossoms on a small floral plate. Another added bonus is in the back of the book: Rachel has included diagrams of the floral arrangements with the flowers listed so the reader can recreate the gorgeous arrangements in his or her own home. I'm still deciding which one I'll try first, and when I create one of Rachel's arrangements I'll share it here on the blog and on Instagram.
But this book isn't only about fresh flowers: It's about anything floral that brings beauty into a space. The floral architectural features and lighting are beautiful as is the artwork. I enjoyed seeing so many different styles: English Country, Paris Apartment, California Contemporary, and Scandinavian. The photography is stunning: Amy Neunsinger is a gifted photographer. She captured Rachel's vision well, and I have been so inspired by this book that I've thought of a variety of floral projects to make or install in our home.
I decided to play with the book in our kitchen. Some days I have way too much fun!
Shabby Chic napkins
A couple of my tiny floral paintings
Shabby Chic fabric-lined blueberry crate
I usually keep my library books in it!
There are bold colors in this book as well as stark white. I love it all!
I was inspired by some of the darker blues to place the peonies in the midnight blue flower frog vase.
Do you like Rachel's Shabby Chic style? I love it! If you'd like to order a copy, the book cover below is an affiliate link for IndieBound.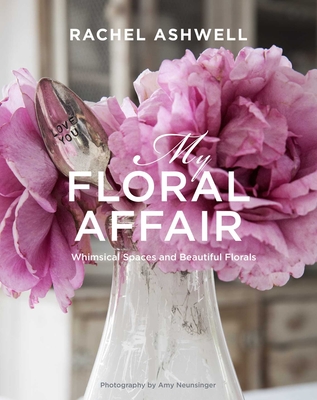 Please come back tomorrow for a round-up of my favorite Rachel Ashwell books!
Until next time...
Happy reading!
Ricki Jill