Happy Literary Friday, My Lovelies!
I recently read
Little Fires Everywhere
by Celeste Ng, and I chose it for my
February Indie Next List Letter
because this book needs to be talked about.
If you need to choose a book club selection, do yourself a favor and choose this book because there are so many nuanced issues in it you can discuss it for days. You are welcome...
According to Goodreads:
Everyone in Shaker Heights was talking about it that summer: how Isabelle, the last of the Richardson children, had finally gone around the bend and burned the house down.
In Shaker Heights, a placid, progressive suburb of Cleveland, everything is meticulously planned – from the layout of the winding roads, to the colours of the houses, to the successful lives its residents will go on to lead. And no one embodies this spirit more than Elena Richardson, whose guiding principle is playing by the rules.
Enter Mia Warren – an enigmatic artist and single mother – who arrives in this idyllic bubble with her teenage daughter Pearl, and rents a house from the Richardsons. Soon Mia and Pearl become more than just tenants: all four Richardson children are drawn to the alluring mother-daughter pair. But Mia carries with her a mysterious past, and a disregard for the rules that threatens to upend this carefully ordered community.
When the Richardsons' friends attempt to adopt a Chinese-American baby, a custody battle erupts that dramatically divides the town and puts Mia and Mrs. Richardson on opposing sides. Suspicious of Mia and her motives, Mrs. Richardson becomes determined to uncover the secrets in Mia's past. But her obsession will come at unexpected and devastating costs to her own family – and Mia's.
Little Fires Everywhere explores the weight of long-held secrets and the ferocious pull of motherhood-and the danger of believing that planning and following the rules can avert disaster, or heartbreak.
This book won the 2017 Best Book Award for Fiction on Goodreads.
My review:
This is definitely a book about mothers behaving badly. When you're a certified Mama Bear like I am, it's difficult to relate to the moms in Little Fires Everywhere with the exception of Elena's friend Linda who's hoping to adopt an abandoned Chinese baby girl. Elena is interesting because rather than using her journalistic talents to further her career, she uses them to investigate Mia's past. But Mia isn't innocent, either, and she crosses way too many boundaries, too. Both Mia and Elena are selfish and rebellious. Elena tries to "follow the rules" but I think she recognizes a bit of herself in her youngest and most rebellious child Izzy, and she treats Izzy more like a burden than a child.
This brings me to my next point: Shaker Heights, Ohio, is an orderly community, and I can only imagine how many covenants govern the citizens who maintain the beauty of the neighborhoods. This story wouldn't have worked in many other settings; there are demands and expectations not only for the adult residents but also for the teenagers. Outstanding schools aside, Mia's moving there seems like an odd choice, and Elena's affluence guilt doesn't really server her very well, either. Elena likes to choose the renters in her duplex based on need and how much living there will affect their lives; so she chooses Mia and Pearl as her new tenants.
Set in the late nineties, the teenagers have more freedom and very little appropriate adult supervision. Without cellphones, the parents can't keep tabs on them, and with their lack of supervision, they get into trouble like teenagers are wont to do. (Not that cellphones prevent teens from making mistakes, but it is easier for parents today to at least keep tabs on their teens via technology). The book is told in flashback, but there isn't as much closure as I would have liked. But then again, maybe that's the point. Like the prairie fires Mia mentions in the book, sometimes it's good to burn something to the ground and start over, and this story only covers the events leading up to the big do over.
If you'd like to order this book, please click on the affiliate link below to buy it from your local indie bookstore.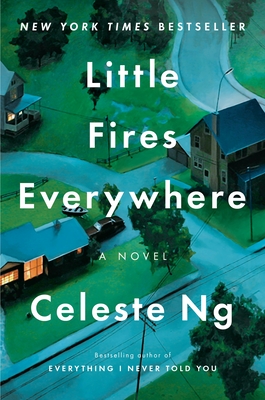 Until next time...
Happy reading!
Ricki Jill