Happy Tuesday! I'll try to be happy today as we'll be dodging storms.....*again*.....like every other day since Friday. But at least we're not having a drought, so I need to stop complaining!

My Happy List

1. Today is National Iced Tea Day!!! Iced tea has been a Southern staple forever, and it's nice to see it become more available elsewhere.



I love my tea with tea honey from the Savannah Bee Co. You can purchase a pump, which is brilliant! This honey is perfect for tea because it adds just the right amount of sweetness without overpowering the taste of the tea. It's great in coffee, too!
Debbie wrote the cutest post about Southerners and monograms complete with the cutest project ever. You can see it here. This is for you, Debbie. Yes, you can have one letter serve as a monogram. Our tea set has been engraved with a T monogram (tea pitcher, glasses, and coaster. You can't really see the monograms with tea inside, but they're there!
What's your favorite way to drink iced tea???
2. Guess, what, guess, what, GUESS WHAT????? FINALLY after, IDK....three years, maybe....THIS is out TODAY!!!
So. Happy....
But help, us, Houston, for there is a problem. This weekend is Father's Day, so I don't want to ruin it for my family by being glued to this book for the days it will take me to read it. I'm trying not to fash myself over it, but I must wait until Monday. I must really love Mr. Art @ Home is all I'm sayin'.....
I am *so* addicted.
3. I've been fluffing the house a little. I've put some fresh summer-pink roses around the house, and I made a little terrarium for our entry.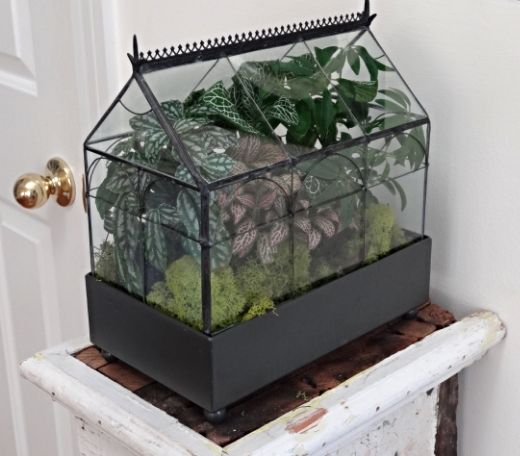 I've been bringing hydrangeas inside from our garden. Happy!
What's making you happy today?
Until next time...
Blessings!
Ricki Jill