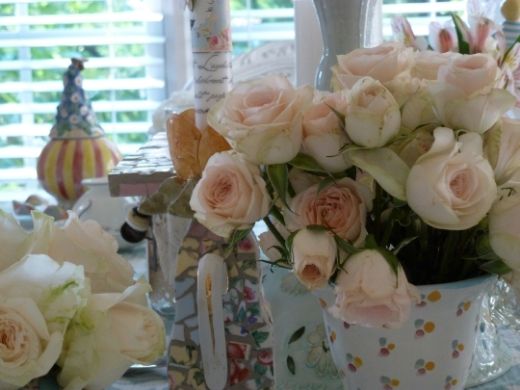 Mad Tea Party
An invitation to a
Mad Tea Party
at
A Fanciful Twist
. How lovely! Tea parties are my very favorite kind of party.
Upon our arrival, the guests are told to don aprons, and then get to work. We are required to iron our napkins before being seated!
As the last napkin is ironed and the aprons are returned to their hooks, our host asks us to hold hands and sing the most macabre of nursery rhymes:
I begin serving the beverages for the day: Double Earl Grey Tea and Chocolate Lavender Coffee served with lemon or cream and sugar. Our host chastises me because cream always precedes the sugar.
Our host dominates the conversation. He seems obsessed with our dreams and claims to collect them. As I am busy serving, I never share mine.
Tablecloth and oversized Kabaya teacup: Anthropologie
Napkins: Shabby Chic
Sweet stand and candlestick: Mosaicwares
1. Fill a kettle with cold water. Bring it to a full bowl, then turn off immediately.
2. Pre-warm the teapot by pouring in hot water and swirling it around. Empty water into the sink.
3. Add tea leaves to the pot, one teaspoon per cup plus one for the pot. Fill with hot water and stir.
4. Put the lid back on and steep for around five minutes. Pour though a tea strainer into cups.
This makes enough for six medium-sized finger bowls.
4 cups distilled water
6 drops floral essential oil (I used rose oil)
6 fresh flower blossoms (I used roses)
1. Boil the water. Add the essential oil and set aside to cool.
2. When cool, fill each finger bowl halfway with the scented water. Before the guests arrive, add the flower blossoms to each finger bowl.
3. Place a bowl at each setting when you serve dessert.
1 jar Wild Hibiscus Flowers in Syrup
1 pint vanilla Greek Yogurt
1 cup fresh berries of your choice, such as raspberries or strawberries
whipped cream for topping
1/4 cup pistachios, chopped for topping
Drain the hibiscus flowers and reserve both the syrup and flowers. Cut each flower in half. Scoop 1/2 cup of yogurt into each of 4 servings bowls. Scatter berries over yogurt and drizzle each with the reserved hibiscus syrup. Top each sundae with whipped cream, hibiscus flowers and chopped pistachios. Serve immediately.
Graphics in post from: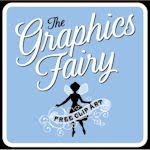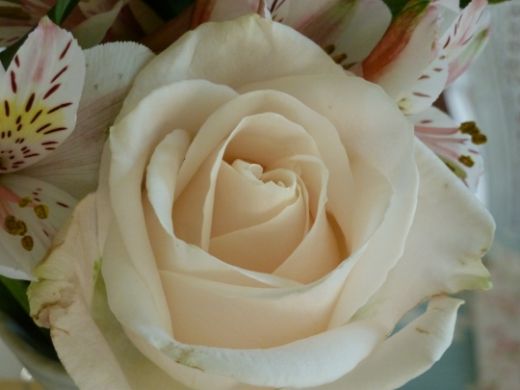 Thank-you for hosting, Vanessa!

I will be visiting all the Mad Tea Parties the next few days. I will be back Tuesday for My Happy List, and unless you're at the Tea Party, I'll catch-up with you after Tuesday!


Until next time...
Blessings and Sweet Dreams!
Ricki Jill