Hello, My Lovelies! There's less than a week left in February. :D I haven't been doing a whole lot lately other than reading. Today, the sun came out and the air quality is excellent, so I will be able to spend some time outside this afternoon.
Ava Dove—the sixth of seven daughters of the famed Dove family, and owner of Ava's Landscaping and Specialty Gourmet Tea—is frantic.
Just as she is getting ready to open her fabulous new tearoom, her herbal teas have gone wonky. Suddenly, the tea that is supposed to help people sleep is startling them awake with vivid dreams; the tea that infuses romance back into tired marriages is causing people to blurt out their darkest secrets; and the tea that helps people find happiness is making them spend hours staring into mirrors.
Meanwhile, living four doors down the road from Ava, sixteen-year-old Kristen Foster's life has just crashed down around her. After her mother's death, Kristen's grandmother Ellen has arrived in town to sweep Kristen off to a white mansion on a hill in distant Raleigh. But Kristen has had enough 'life changes' and is desperate to stay with her friends in her beloved hometown of Dove Pond. But to do so means Kristen must undertake a quest she's been avoiding her entire life—finding her never-been-there-for-her father.
With the help of an ancient herbal remedy book found in her attic by her sister, Ava realizes that Kristen holds the key to fixing her unstable tea leaves. So Ava throws herself into Kristen's search, even convincing Kristen's grandmother Ellen to help, too. Together, the three embark on a reluctant but magical journey of healing, friendship, and family that will delight fans of Alice Hoffman, Kate Morton, and Sarah Addison Allen.
My Review:
I was shocked when I finished this book because I liked it even more than The Book Charmer, which is saying a lot because it's one of my all-time faves. Ava has been hiding a secret that she knows will cause all kinds of drama and hurt should it ever see the light of day. She has hidden it in a box bound by duct tape, yet the box won't stay in place and is determined to noisily make itself known to the world. The box reminds me of The Monster Book of Monsters from Harry Potter because it's like a sentient being, and it gets naughtier by the day. Ava is a master gardener, and she has been working for months to renovate a storefront in downtown Dove Pond that will house her tearoom. Ava is known for her blends, but she's concerned when three of her individual blends don't have the intended effects her customers were expecting; if word gets out about these three blunders, her dream might be thwarted before her grand opening.
Ava lives with her sister Sarah in their family home. Sarah is the "book charmer," or town librarian, and knows just which books to recommend to her patrons because the books talk to her. Everyone in town loves her, and Ava does, too: She took care of Sarah after their parents died, and she would do anything for her, including keeping a secret for fifteen years. Keeping it, however, is taking its toll on Ava.
Ava's young high school apprentice Kristen is grieving over the loss of her mother. She is struggling with her grandmother Ellen's expectations that they will sell Kristen's home and move to live with Ellen in Raleigh. Ellen is a famous architect, and her lifestyle is not what Kristen is used to. Kristen knows that her father lives in Dove Pond, but she doesn't know his name. She decides to discover his identity and maybe he will allow her to remain in Dove Pond so she can finish her junior and senior years. This plot point is very surprising, and at first I didn't think I was going to like it because it is very sad. I was very pleasantly surprised!
If you love family drama, magical realism, well-drawn and unique characters, unexpected plot twists, and a setting that is special (I would love to live in Dove Pond) and has a Southern sense of place, then you should love A Cup of Silver Linings. Just make sure you have tissue close by because you will probably cry not just while reading the sad parts, but happy tears of joy toward the end.
Below is an IndieBound affiliate link. Please shop local when you can!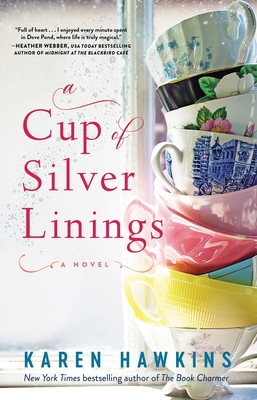 Until next time...
Happy reading!
Ricki Jill