Happy Literary Friday, My Lovelies! Today I'm reviewing one of my very favorite Christmas books I've ever read: Christmas by the Book by Anne Marie Ryan.
According to Goodreads:
"A heartfelt and lovely Christmas tale for book lovers everywhere!"—Jenny Colgan, author of The Bookshop on the Shore
In small-town England, two booksellers facing tough times decide to spread some Christmas cheer through the magic of anonymous book deliveries in this uplifting holiday tale for book lovers everywhere.
Nora and her husband, Simon, have run the beautiful oak-beamed book shop in their small British village for thirty years. But times are tough and the shop is under threat of closure--this Christmas season will really decide their fate. When an elderly man visits the store and buys the one book they've never been able to sell, saying it's the perfect gift for his sick grandson, it gives Nora an idea. She and Simon will send out books to those feeling down this Christmas. Maybe they can't save their bookstore, but at least they'll have one final chance to lift people's spirits through the power of reading.
After gathering nominations online, Nora and Simon quietly deliver books to six residents of the village in need of some festive cheer, including a single dad of twins who is working hard to make ends meet, a teenage boy grieving for his big sister, a local Member of Parliament who is battling depression, and a teacher who's newly retired and living on her own. As the town prepares for a white Christmas, the books begin to give the recipients hope, one by one. But with the future of the bookshop still up in the air, Nora and Simon will need a Christmas miracle--or perhaps a little help from the people whose lives they've touched--to find a happy ending of their own....
My favorite quote from the book.
My review:
The main characters and the couple who own the bookstore, Nora and Simon, are absolutely precious. I love them so much! They are on the verge of losing their Cotswolds bookshop to the bank, and yet they decide to give a book to six individuals who need to be uplifted during Christmas. Their community nominates deserving villagers via social media, and Nora and Simon select winners from the nominees. They enjoy choosing which six books to give away, and the one stipulation is that each book must be set during Christmas. One reason they enjoyed their task so much is due to the wine and chocolate consumption during the process. They carefully wrap each book in brown paper and select the winners.
The next morning, a little hungover yet anxious to deliver the books to the winners, Nora and Simon realize that they forgot to label the wrapped books: They have no way to match the recipient with a book unless they unwrap them, and they decided to let fate determine who gets which book. What I love most about the plot is that miraculously each person receives the perfect book for his or her circumstances: It's a Christmas miracle! There are also other miracles in the story, but I'm unwilling to share those spoilers.
Another thing to love about this book is the Christmas Book List for the winners:
A Christmas Carol by Charles Dickens
The Lion, the Witch and the Wardrobe by C.S. Lewis
Twelfth Night by William Shakespeare
A Child's Christmas in Wales by Dylan Thomas
The Adventures of the Blue Carbuncle by Sir Arthur Conan Doyle
The Greatest Gift by Philip Van Doren Stern
(The classic It's a Wonderful Life was based on The Greatest Gift.)
This novel makes me want to read all of these books. I might do it next Christmas, but first I want to find a copy of The Greatest Gift.
Not just a cozy Christmas read (it was), it's literary in that books are discussed, characters are very well developed, and the sense of community in the Village of Stoweford is heart-warming. If you love books, indie bookshops, unforgettable characters, and Christmas you will love this book. Added bonus: the bookshop's dog is a Westie named Merry! I highly recommend it.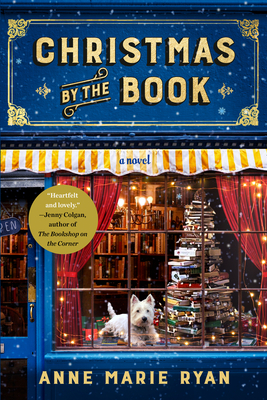 IndieBound affiliate link
Please remember to support your local Indie Bookshop. They are so important to our communities!
Did you read a book with a Christmas setting during the holidays?
Until next time...
Happy reading!
Ricki Jill