Happy Wednesday, My Lovelies! I was hoping to have given you an update on our clean-up after the tornado, but it is going very slowly. Give me about another week or so, and maybe I'll have some news then.
Today I'm sharing my review of
The Venice Sketchbook
by Rhys Bowen. I agreed to be a part of the book tour months before the storm, and I do try very hard to keep my commitments! One reason I was excited about this book is because I've enjoyed Rhys Bowen's cozy mysteries over the years, especially her
Molly Murphy Mysteries
.
According to Goodreads:
Love and secrets collide in Venice during WWII in an enthralling novel of brief encounters and lasting romance by the New York Times bestselling author of The Tuscan Child and Above the Bay of Angels.
Caroline Grant is struggling to accept the end of her marriage when she receives an unexpected bequest. Her beloved great-aunt Lettie leaves her a sketchbook, three keys, and a final whisper…Venice. Caroline's quest: to scatter Juliet "Lettie" Browning's ashes in the city she loved and to unlock the mysteries stored away for more than sixty years.
It's 1938 when art teacher Juliet Browning arrives in romantic Venice. For her students, it's a wealth of history, art, and beauty. For Juliet, it's poignant memories and a chance to reconnect with Leonardo Da Rossi, the man she loves whose future is already determined by his noble family. However star-crossed, nothing can come between them. Until the threat of war closes in on Venice and they're forced to fight, survive, and protect a secret that will bind them forever.
Key by key, Lettie's life of impossible love, loss, and courage unfolds. It's one that Caroline can now make right again as her own journey of self-discovery begins.
My Review:
I have read way too many World War II historical fiction novels over the past ten years or so, but I thought this one would be different as it's set in Venice. I also like family dramas and dual timelines: This story has both. Caroline's Aunt Juliet has passed away, and Caroline is her heir. Her inheritance barely affords her a trip to Venice to learn more about the contents of a box that had once belonged to her aunt: two sketchbooks, Venetian glass beads, a ring, and three keys. With little hope of solving the mysteries of the items, Caroline is determined to enjoy her holiday. Surprisingly, she serendipitously discovers the function of one of the keys, and that leads to even more discoveries about her Aunt Juliet.
Juliet's storyline begins when she's around nineteen. She travels with her Aunt Hortensia to Italy, the best place for a budding young artist to be inspired. While in Venice, Juliet meets Leonardo Da Rossi: Their meet-cute is fun. He takes her on a late night picnic, but they're caught by the innkeepers who tell Aunt Hortensia. She is furious with Juliet and changes their plans to leave Venice early; Juliet is unable to say goodby to Leo. Upon her return to England, Juliet is unable to attend art school because her father loses their wealth during the market crash of 1929. However, ten years later, she is gifted a bursary as an art teacher to travel to Venice and study art for a year. She runs into Leo, and as the war in Europe begins, she and Leo forge an interesting partnership. I found Juliet's story bittersweet, and the plot is engaging albeit predictable at times.
Caroline's storyline is a bit problematic. She's a mom, and her flighty, fashion designer ex-husband is in New York City living with a pop star. Their young son is living with him because his summer holiday is extended due to the tragedies of 911...or at least that is the ex's excuse for not bringing Teddy back home to Caroline in England. This is why I have an issue with Caroline's character. She takes off to Italy for her little adventure and doesn't fly to New York to at least see her son. Her lack of maternal instincts are not endearing. Still, I did enjoy how Caroline discovers her aunt's secrets. The setting is beautiful, and Bowen's descriptions of Venice and her culture are stunning. If you enjoy mysteries and historical novels set during World War II, you should enjoy The Venice Sketchbook.
Disclosure:
I received a beautiful hardcover copy of
The Venice Sketchbook
from the publisher via
TLC Book Tours
in exchange for a fair and honest review. Thanks for letting me a part of the tour!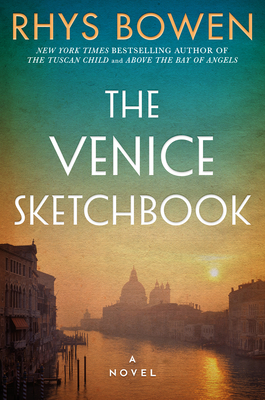 An IndieBound Affiliate Link
Until next time...
Blessings!
Ricki Jill