Happy Literary Friday, My Lovelies!
As y'all know, I have been reading through the
Mitford Series
by Jan Karon this year. I can't say enough positive things about this wonderful series. I wanted to write a full review for
Shepherds Abiding
because it's a Christmas book, and it really can be considered a stand alone because Karon gives enough information about the characters in the story so the readers aren't lost.
According to Goodreads:
The eighth novel in the beloved Mitford series, by the bestselling author of At Home in Mitford and Somebody Safe with Somebody Good
Millions of Americans have found Mitford to be a favorite home-away-from-home, and countless readers have long wondered what Christmas in Mitford would be like. The eighth Mitford novel provides a glimpse, offering a meditation on the best of all presents: the gift of one's heart. Since he was a boy, Father Tim has lived what he calls "the life of the mind" and has never really learned to savor the work of his hands. When he finds a derelict nativity scene that has suffered the indignities of time and neglect, he imagines the excitement in the eyes of his wife, Cynthia, and decides to undertake the daunting task of restoring it. As Father Tim begins his journey, readers are given a seat at Mitford's holiday table and treated to a magical tale about the true Christmas spirit.
My Review:
Shepherds Abiding is a wonderful novel set in the most beautiful setting, fictitious Mitford, North Carolina (based on the real Blowing Rock, North Carolina). Father Tim is America's priest: I love his character, especially his love for God and faith in Christ. He is an inspiration, and so is his artist wife, Cynthia. They are a cute, nerdy couple. At the beginning of October, Tim begins to think about what to get Cynthia for Christmas. Soon thereafter he finds the nativity scene (with the strangely painted figures) in Mitford's Oxford Antiques: He thinks he's found the very best Christmas present for Cynthia. Oxford's owner Andrew helps Tim set-up a workshop in a storage room in the store so Timothy can restore the pieces clandestinely. He's concerned that he won't be able to paint the pieces to Cynthia's satisfaction and scrutiny because she's such a talented artist, yet he goes for it because the crèche is the perfect gift. Time is an issue because it's quite an ambitious project.
Another one of my favorite characters from the series, thirty-something Hope Winchester, is living up to her name. She is the manager of the Happy Endings Bookstore, and she has many life-changing decisions to make. Independent bookstores are hurting from Amazon and the big box stores. The online rare book sales and a few of the themed monthly sales have kept the store afloat, but barely. How can Happy Endings compete, especially in such a tiny hamlet? She hopes not only for a project for her own: She also hopes for love with one of the kindest men in fiction. I have truly rooted for Hope throughout this series, and it's fun to see her featured in this Christmas story because Christmas is definitely the season of hope.
Interspersed throughout this double storyline are glimpses into Father Tim's childhood Christmases in Mississippi. I loved reading about him as a little boy, especially one particular memory that completely paints his father in a different light. This book has everything the reader wants in a Christmas book: faith, hope, joy, love, and community. If you want to read a Christian fiction book about Christmas this season, then I highly recommend Shepherds Abiding because it will put you in the Christmas spirit. I checked this book out from our local library, and I'm asking Santa for a copy!
And there were in the same country shepherds abiding in the field, keeping watch over their flock by night. Luke 2:8
Below is an IndieBound affiliate link for purchasing the book.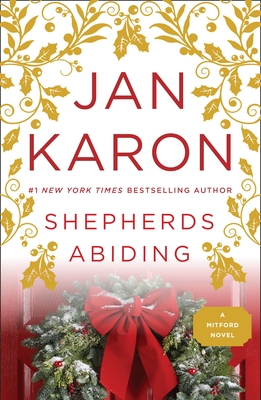 Until next time...
Happy reading!
Ricki Jill